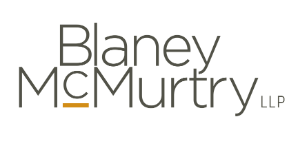 Firm Details
Blaney McMurtry LLP is a Toronto based law firm consistently ranked as a top tier regional firm, delivering top level expertise in litigation & advocacy, real estate and business law.
The firm's location in Canada's financial centre positions Blaney McMurtry to handle complex matters that have scope beyond Toronto and surrounding area. Canadian experience delivered from one office.

A member of TAGLaw®, one of the world's largest legal networks, rated as "elite" in Chambers Global rankings, Blaney McMurtry offers clients immediate and seamless access to worldwide legal expertise on a priority basis. The firm is also a member of the Risk Management Counsel of Canada (RMC), a national association of law firms providing services to the risk management industry, including insurers, risk retention groups and self-insureds, as well as a founding member of Insurance Law Global (ILG), a network comprised of like-minded, independent insurance defence firms from the UK, Canada, Spain, Netherlands, Mexico, Australia and the USA.

Firm Practice Areas
Aboriginal Law
Alternative Dispute Resolution
Asset-Based Lending Practice
Aviation Law
Banking and Finance Law
Cannabis Law
Class Action Litigation
Commercial Leasing Law
Construction Law
Corporate and Commercial Litigation
Corporate Law
Defamation and Media Law
Director and Officer Liability Practice
Entertainment Law
Environmental Law
Equipment Finance Law
Family Law
FinTech Practice
Health Care Law
Immigration Law
Information Technology Law
Insolvency and Financial Restructuring Law
Insurance Law
Intellectual Property Law
Labour and Employment Law
Mergers and Acquisitions Law
Mining Law
Personal Injury Litigation
Product Liability Law
Real Estate Law
Securities Law
Sports Law
Tax Law
Technology Law
Trusts and Estates
Workers' Compensation Law
Office Locations
Canada
Canada
Ontario
Ontario
Toronto, ON
2 Queen Street East, Suite 1500
Toronto, ON M5C 3G5
Canada