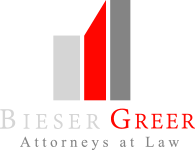 Six North Main Street, Suite 400
Dayton, OH 45402-1914
United States
(937) 223.3277
Firm Details
Since our firm's very beginning in 1854, Bieser, Greer & Landis has helped individuals and companies solve their problems – in and out of the court room. Our litigation clients count on us to be efficient and goal oriented. We consciously strive to avoid spending time and money on collateral and secondary disputes and issues. Instead, we attempt to resolve the underlying dispute without creating side issues that generate legal fees and provide little or no benefit for the client.

We represent individuals, growing businesses and Fortune 1000 companies on both sides of disputes that originate in Ohio – or elsewhere. Our lawyers have taken cases to trial and have argued cases in many regions of the United States, as well as in the United States Supreme Court. Clients retain us because our attorneys confront the risks they face as though they are their own and because they have the skill and expertise to communicate complex issues in simple and understandable terms.

Outside of business disputes, the bulk of our litigation work is in defending individuals and companies. We also represent individuals and companies injured or harmed by others. Our representation of plaintiffs is as vigilant and aggressive as our advocacy for individuals and corporations on the defense side.

Family law and probate administration is an area where Bieser, Greer & Landis has also excelled. We work with clients and their families to achieve their goals while providing advice concerning consequences of the alternatives available to the clients.
Firm Practice Areas
Appellate Practice
Banking and Finance Law
Bet-the-Company Litigation
Commercial Litigation
Corporate Law
Criminal Defense: White-Collar
Financial Services Regulation Law
Litigation - Banking and Finance
Litigation - Bankruptcy
Litigation - Construction
Litigation - Intellectual Property
Litigation - Municipal
Litigation - Patent
Litigation - Real Estate
Litigation - Trusts and Estates
Medical Malpractice Law - Defendants
Personal Injury Litigation - Defendants
Product Liability Litigation - Defendants
Real Estate Law
Office Locations
United States
United States
Ohio
Ohio
Dayton, OH
Six North Main Street, Suite 400
Dayton, OH 45402-1914
United States