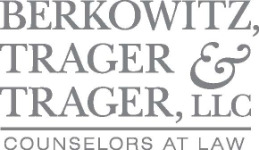 Headquarters
Eight Wright Street
Westport, CT 06880
United States
(203) 226.1001
Firm Details
Berkowitz, Trager & Trager, LLC is recognized as one of the premier law firms in Connecticut, concentrating in corporate transactions, commercial and venture capital financing, merchant bankcard law, executive compensation, tax law, cable television and media law, real estate development and land use planning, creditors' rights and trusts and estates.

The firm often handles sophisticated and complex matters throughout the USA and abroad from its offices in Westport and New York City. Our diverse clientele includes major corporations and financial institutions, closely held business entities, individuals having substantial business interests and high net worth individuals.

The firm's practice groups often work together on a particular matter in order to maximize efficiency and apply the firm's collective experience to solving problems. This organizational structure has enabled Berkowitz, Trager & Trager to consistently provide the highest quality legal services with far greater efficiency, cost-effectiveness and personal attention than larger firms can typically offer.
Management
Demographics
Partners
Women: 3
Men: 11
Non-Legal Employees
Women: 9
Top Listed City Awards
Top Listed in Westport in Real Estate Law with 4 lawyers
Firm Practice Areas
Banking and Finance Law
Commercial Finance Law
Corporate Law
Employment Law - Individuals
Employment Law - Management
Real Estate Law
Tax Law
Trusts and Estates
Office Locations
United States
United States
Connecticut
Connecticut
Westport, CT
Eight Wright Street
Westport, CT 06880
United States
New York
New York
New York, NY
747 Third Avenue, 23rd Floor
New York, NY 10017
United States