Headquarters
Scotia Plaza, 40th Floor
40 King Street West
Toronto, ON M5H 3Y2
Canada
416-364-7311
Firm Details
Bereskin & Parr LLP is a leading Canadian full service intellectual property law firm serving clients across all industries around the world. Founded in 1965, the firm has grown to be one of the largest IP firms in Canada with offices located in major economic and technology centres. Bereskin & Parr is made up of more than 70 lawyers and patent and trademark agents, many of whom are recognized as leading practitioners in their specialized fields. The firm has established a depth of legal talent and systems to service clients in every aspect of patent, trademark and copyright law and IP litigation. The firm and its award-winning professionals are consistently ranked as the benchmark for IP law in Canada.
Management
Law Firm of the Year Awards
Intellectual Property Law in Canada (2020)
Intellectual Property Law in Canada (2019)
Top Listed City Awards
Top Listed in Toronto in Intellectual Property Law with 14 lawyers
About Our Clients
Bereskin & Parr's direct clients range from small start-up operations and individual inventors to large Canadian and multi-national corporations, including Fortune 500 companies and some of the biggest intellectual property rights owners in the world. We serve all of their IP needs, including managing worldwide trademark and patent portfolios. The firm also represents universities, hospitals and research facilities, which have complex cutting-edge scientific and technological inventions.
Our clients' businesses include computer hardware and software, engineering and manufacturing equipment, biomedical, biotech and pharmaceutical innovations, agricultural inventions, telecommunications, retail services, clothing, food and consumer goods.
The firm's global reputation and strong commitment to customer service have allowed us to establish trusted relationships with leading foreign law firms around the world.
"Law Firm of the Year"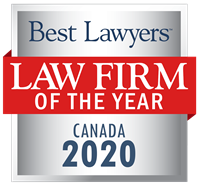 Bereskin & Parr LLP has received the following "Law Firm of the Year" accolades. Only one firm in a practice area is awarded this top honor each year:
Canada's "Law Firm of the Year" awards:

Intellectual Property Law - 2020
Intellectual Property Law - 2019
Firm Practice Areas
Advertising and Marketing Law
Biotechnology Law
Information Technology Law
Intellectual Property Law
Technology Law