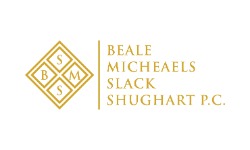 7012 North 18th Street
Phoenix, AZ 85020-5502
United States
602-285-1444
Firm Details
Beale, Micheaels, Slack & Shughart is one of the most respected firms within the southwestern legal community. Its commitment to provide the highest-quality legal advice and representation has warranted its hard-earned reputation.
The firm's founding partners, Mike Beale and John Micheaels, with national reputations in their own right, are recognized in Woodward/White's biannual publication Best Lawyers in America. Both are Fellows with the American College of Trial Lawyers, the most prestigious organization of trial attorneys in the country, which is limited to only 1% of all lawyers in the U.S. Both are also listed among the top 29 lawyers in the Valley specializing in personal injury and civil litigation, according to Phoenix Magazine and both are Fellows in the International Society of Barristers. John is a member of the International Association of Trial Attorneys. The firm has been named one of America's Best Law Firms for the past three years. John Micheaels has been Lawyer of the Year in Phoenix for a number of years and Michael Beale was named Lawyer of the Year in 2012.
The Beale, Micheaels, Slack & Shughart team of highly qualified attorneys has over 75 years experience in personal injury and civil litigation. In addition, the firm employs a team of valuable support staff including paralegals, nurse consultants, legal secretaries and administrative staff - all available to assist with case and trial preparation.
Firm Practice Areas
Medical Malpractice Law - Plaintiffs
Personal Injury Litigation - Plaintiffs
Professional Malpractice Law - Plaintiffs
Railroad Law
Office Locations
United States
United States
Arizona
Arizona
Phoenix, AZ
7012 North 18th Street
Phoenix, AZ 85020-5502
United States