Firm Profile
Firm Details
Baraona Fischer Spiess is a leader among top-tier legal firms. Its recognized tax, corporate and finance teams are known for providing effective solutions in a fast-changing business and regulatory environment.
The Firm gathers a diverse professional team in various practice areas, with a commitment to excellence, innovation and team work. It is lead by partners and senior associates with a vast and prestigious professional background in Chile and abroad, combining highly innovative, comprehensive and business-oriented solutions, with a close, reliable and continuous legal support to its clients.
Baraona Fischer Spiess's tax practice is led by its senior partner Juan Manuel Baraona, and headed by Alex Fischer. Both have been consistently ranked, along with the firm as a whole, at the top-tier of most international law-firm rankings. Partners Carolina Collantes, Isabel Espinoza, Boris León and Juan Cristóbal Ortega are actively engaged by major local and international clients in a broad spectrum of tax-advisory areas, including general corporate matters, M&A transactions, financings, transfer pricing and estate planning and structuring.
The firm also boasts a tax-litigation team that, with a conflict-resolution approach, is regularly engaged in complex and high-profile matters. The litigation team benefits from the experience of senior legal counsel, Francisca Villamán, who headed the legal department of the tax authority's Large Taxpayers Unit.
Baraona Fischer Spiess also differentiates itself as the only law-firm providing tax-compliance services as an integral part of its tax team. The increasing complexity and sophistication required to comply with tax laws and regulations was key to their strategic decision to integrate tax-compliance services to its tax advisory practice. A group of seven highly-qualified auditors, with significant experience at big-four audit firms, is by far the largest amongst law-firms.
Baraona Fischer Spiess' general corporate practice is led by founding partners Max Spiess, Raúl Marshall and Juan Pablo Baraona. At par with the tax practice, the firm has represented major clients, including several foreign banks, the Republic of Chile in financing matters and legislative advisory. In addition, it has participated in relevant public-private partnership deals representing both public and private clients. Its financing team is constantly engaged for structured and syndicated financing by local and international banks and its experience in derivate instruments and private financing is outstanding.
Recently, María Elina Cruz, a recognized lawyer and economist, has joined the firm to build the Antitrust and Competition group. María Elina headed the Antitrust department of Universidad Católica de Chile, and she is the only antitrust lawyer with a PhD in Economics in the field of Antitrust and Competition law. Her background as an economist also informs transfer pricing, advice and litigation services.
In all, drawing from its prestigious tax-practice, Baraona Fischer Spiess is now a major player within the business-law service market, offering the full spectrum of business-oriented legal solutions. Its diverse group of lawyers and accountants is recruited only from the best universities in Chile. Over the last years, it has shown dynamic growth by actively incorporating prestigious and recognized talent, growing from a group of 30 lawyers to a team of near 60 professionals providing services to clients.

Management
Demographics
Partners
Women: 2
Men: 11
Associates
Women: 12
Men: 25
Paralegals
Women: 2
Men: 4
Non-Legal Employees
Women: 11
Men: 17
Law Firm of the Year Awards
Contacts
"Law Firm of the Year"
Baraona Fischer & Cia. offers a unique combination of tax expertise, business experience, creativity and innovation to provide customized solutions for our clients.Our team stands-out for understanding in detail the needs of each client, to deliver integral solutions through our tax, business and financial practice.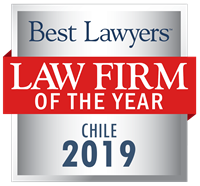 Tax Law
Baraona Fischer & Cia, winner of the 2019 "Law Firm of the Year" award for Tax Law in Chile, is taking an active role in navigating new regulations and developments in its country. In an interview with Best Lawyers CEO Phillip Greer, senior partner
Juan Manuel Baraona
discusses these changes and the positions of the business and legal communities in a moment of change.
Read the full article here.
Firm Practice Areas
Banking and Finance Law
Corporate and M&A Law
Corporate Governance & Compliance Practice
Natural Resources Law
Tax Law