Firm Profile
Firm Details
Baraona Fischer & Cia is a leading firm in Chile. We are recognized for providing a comprehensive legal advice in the fields of business law, including general corporate matters, mergers and acquisitions, project financing, tax, natural resources and litigation.
Our team includes more than seventy professionals, both specialized lawyers and skilled tax auditors. Our partners have wide experience in their respective practice areas and are nationally and internationally recognized. We are committed to excellence, innovation and teamwork.
We aim to provide solutions that respond to the demands of a changing and complex legal and business environment, which require knowledgeable, creative, outstanding and flexible professionals.

Management
Demographics
Associates
Women: 19
Men: 15
Management / Department Heads
Men: 5
Paralegals
Women: 4
Men: 4
Non-Legal Employees
Women: 15
Men: 8
Law Firm of the Year Awards
Contacts
"Law Firm of the Year"
Baraona Fischer & Cia. offers a unique combination of tax expertise, business experience, creativity and innovation to provide customized solutions for our clients.Our team stands-out for understanding in detail the needs of each client, to deliver integral solutions through our tax, business and financial practice.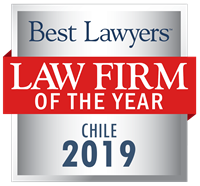 Tax Law
Baraona Fischer & Cia, winner of the 2019 "Law Firm of the Year" award for Tax Law in Chile, is taking an active role in navigating new regulations and developments in its country. In an interview with Best Lawyers CEO Phillip Greer, senior partner
Juan Manuel Baraona
discusses these changes and the positions of the business and legal communities in a moment of change.
Read the full article here.
Firm Practice Areas
Banking and Finance Law
Natural Resources Law
Tax Law