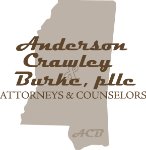 Firm Details
Anderson Crawley & Burke, pllc is a Mississippi law firm headquartered near Jackson, Mississippi. ACB's attorneys represent businesses, the insurance community, and governmental entities throughout Mississippi in a broad spectrum of practice areas. ACB's attorneys are admitted to practice in all courts in Mississippi, are active in state and local bar associations as well as a variety of professional organizations such as the Defense Research Institute. ACB views its mission as that of a strategic partner with its clients in managing the risk associated with litigation, and that vision has solidified the relationships between ACB's attorneys and the firm's clients.

The commitment of its members to excellence, fairness, and honesty is the basis for the success of the firm's attorneys and for the recognition they have achieved in their careers.

The members of ACB are James M. Anderson, Timothy D. Crawley, P. Sharkey Burke, Jr., Terry B. Germany, Brian A. Hinton, and Daniel P. Culpepper. Three non-equity partners associated with ACB are Daniel Baker, Pamela Gunter, and Thomas Wright. ACB also presently has associate attorneys prepared to serve the firm's clients. ACB has earned Martindale Hubbell's highest law firm rating ("av") and it is proud to have its attorneys included in The Best Lawyers in America.
Management
Clients
Advance Auto Parts
AmTrust Insurance Group
Chubb Insurance Group
Family Dollar Stores, Inc.
Georgia Pacific
Home Depot
Liberty Mutual Insurance Group
Manpower, Inc.
Mitsui Sumitomo Insurance Group
O'Reilly Auto Parts
Sedgwick CMS, Inc.
St. Paul/Travelers Insurance Companies
State Auto Insurance Company
The Yates Companies
York Risk Management
About Our Clients
American International Group; American Interstate Insurance Company; AmFed National Insurance Company; AmTrust Group; Brierfield Insurance Company; Broadspire Services, Inc.; Cambridge Integrated Services, Inc.; Cannon Cochran Management Services, Inc.; F. A. Richard & Associates, Inc,; Gallagher Bassett Administrators; Hanover Insurance Group; Hartford Insurance Group; The Home Depot; INA/ACE USA; Irby Construction Company; Levi Strauss & Company; Liberty Mutual Insurance Company; Manpower, Inc.; Meadowbrook Insurance Company; National Linen Services; O'Reilly Automotive, Inc.; Risk Enterprise Management; Ryan's Family Steak Houses, Inc.; Safeco Insurance Company; Sedgwick Claims Management Services, Inc.; State Auto Insurance Company; Summit Consulting, Inc.; Travelers/St. Paul Insurance Company; Wausau Insurance Companies; WG Yates Construction Co.; Yellow Roadway Corporation; Zurich Insurance Company
Office Locations
United States
United States
Mississippi
Mississippi
Ridgeland, MS
216 Draperton Court
Ridgeland, MS 39157
United States