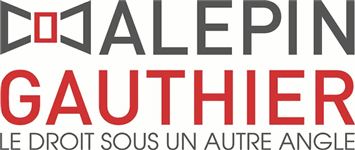 Firm Details
Alepin Gauthier is the current name of the law firm initially founded by Me François Alepin and Me Daniel Bigras in 1978. The addition of Me Brigitte Gauthier, first as an articling student, then as a lawyer and finally as a partner, made it possible to develop extensively our firm's family law practice. This is the core of a hard working team of more than 30 members, including lawyers as well as support personnel.

Always located in Laval, Alepin Gauthier is now situated in the town's center, at the 3080 boulevard Le Carrefour.

Since the beginning, Alepin Gauthier has built its reputation on the strength of it's interventions in various fields of law.

In addition, the law firm of Alepin Gauthier has established, through the years, an international network with law firms located in Canada, the United States, Europe and Asia as well as in the Middle East. Due to these various associations, we are able to adequately respond to each and every one of our client's specific legal needs.

Whatever their reasons, our clientele can be assured of one thing: files entrusted to us will always be treated with seriousness and unsurpassed determination.

For us, the Power of Law is a day to day reality...
Firm Practice Areas
Alternative Dispute Resolution
Construction Law
Corporate and Commercial Litigation
Corporate Law
Family Law
Family Law Mediation
Franchise Law
Immigration Law
Intellectual Property Law
Labour and Employment Law
Tax Law
Office Locations
Canada
Canada
Quebec
Quebec
Laval, QC
3080, boul. Le Carrefour, Bureau 400
Laval, QC H7T 2R5
Canada