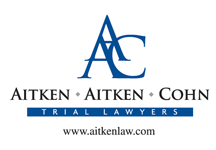 Headquarters
Three MacArthur Place, Suite 800
P.O. Box 2555
Santa Ana, CA 92707
United States
(714) 434.1424
Firm Details
One of California's most respected personal injury law firms, Aitken * Aitken * Cohn is dedicated to serving the injured and aggrieved consumer in a variety of legal conflicts. The firm enjoys a national reputation for the quality of its trial skills and the aggressive representation it provides on behalf of its personal injury clients. This reputation was built on a foundation of numerous settlements, trial victories and precedent setting appellate decisions and is nurtured by the firm's continuing commitment to each of its clients. It is true that the firm's success has translated into substantial recoveries for our clients, yet the firm derives equal satisfaction from the knowledge that these cases have also promoted a fair & safer society.

Aitken * Aitken * Cohn is uniquely well-positioned to provide first class representation to the individual who has suffered personal injuries in any variety of circumstances including train accidents, car accidents, airplane crashes, medical malpractice, premises liability and product liability. The firm's experience encompasses actions against individuals or any one of the numerous government agencies which affect our lives. Extensively practicing within the commercial setting, the firm has successfully handled several matters in the areas of business litigation, insurance fraud and wrongful termination.

Aitken * Aitken * Cohn is committed to maintaining its small size and selectivity in choosing the matters in which it becomes involved. The firm believes its clients are best served through the personal attention that its current staffing and caseload provide.
The firm is AV rated by the Martindale-Hubbell legal directory, and the firm's principal, Wylie A. Aitken, is listed in "The Best Lawyers In America" (among other publications) and has been continuously voted one of "California's Most Influential Attorneys (2000)".

We offer a free online consultation to anyone who believes they may have been wronged due to another's negligence. There is no charge or obligation for submitting a request for legal guidance. If for some reason we cannot be of assistance, we will gladly recommend an attorney whom we respect that is best suited for your matter.
Management
Demographics
Partners
GLBT: 1
Men: 6
Caucasian: 6
Associates
Women: 1
Men: 1
Management / Department Heads
Women: 2
Asian: 1
Caucasian: 1
Paralegals
Women: 5
Hispanic: 1
Men: 1
Caucasian: 5
Non-Legal Employees
Women: 5
Asian: 1
Hispanic: 1
Multi-Racial: 1
Men: 3
Caucasian: 5
Top Listed City Awards
Top Listed in Santa Ana with 8 lawyers
Top Listed in Santa Ana in Personal Injury Litigation - Plaintiffs with 8 lawyers
Top Listed in Santa Ana in Product Liability Litigation - Plaintiffs with 6 lawyers
About Our Clients
Aitken Aitken Cohn is dedicated exclusively to representing the seriously injured individual or a business entity/consumer victimized by unfair and fraudulent business practices.
Firm Practice Areas
Commercial Litigation
Medical Malpractice Law - Plaintiffs
Personal Injury Litigation - Plaintiffs
Product Liability Litigation - Plaintiffs
Office Locations
United States
United States
California
California
Riverside, CA
7121 Magnolia Avenue, Suite A
Riverside, CA 92504
United States
Santa Ana, CA
Three MacArthur Place, Suite 800
P.O. Box 2555
Santa Ana, CA 92707
United States