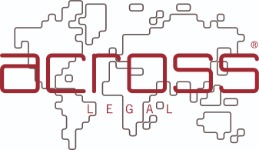 Firm Details
Across Legal provides legal advice to companies in all areas of law (commercial, civil, industrial and intellectual property, litigation, insolvency, etc).
Our clients are the focus of our activity. We strive to maintain at all times, a positive attitude and we aim to provide solutions to the legal and business challenges our clients face. The experience of our team allows us to provide an overview and innovati- ve approach to any situation with legal implications that could affect our clients. This means going beyond the mere application of the law, it is understanding our clients' needs, to provide the best legal approach and solution to each business matter.
Our network of external partners is there to provide whatever is required by our clients to offer high quality advice and service. In Across Legal we are committed to results and clients growth.
Firm Practice Areas
Information Technology Law
Intellectual Property Law
Tax Law
Venture Capital Law
Office Locations
Spain
Spain
Barcelona, Spain
Rambla de Catalunya, 86, 1º1ª
Barcelona 08008
Spain
Madrid, Spain
Calle de Raimundo Fernández Villaverde, 61, 6ªC
Madrid 28003
Spain
Palma de Mallorca, Spain
Carrer de Can Danús, 4
Palma de Mallorca 07001
Spain