Celebrating Excellence
The Best Lawyers in Canada™ awards are a showcase of exceptional contributions to the legal profession. For 18 years, we have amplified the work of the most esteemed lawyers through our awards, recognizing their innovation, leadership and impact on Canada's legal market. With more than 7,000 awarded lawyers this year, The Best Lawyers in Canada is the most comprehensive guide to the highest regarded legal talent in the country, conferred on by their peers.
Building a Legacy
It remains the core of the Best Lawyers methodology that we uphold the brilliance of the Canadian legal market by recognizing the lawyers and law firms who have enriched the profession with esteem and prowess. These awards are determined by our Purely Peer Review® process, designed to accurately capture the consensus of other recognized lawyers through a nomination and voting process. The Best Lawyers in Canada recognitions are a global leader among Best Lawyers' awards, rich in diversity, expertise and exceptionality in a market that demands growth and ingenuity at every turn.
Since 2006, when the inaugural edition of The Best Lawyers in Canada launched, these awards have sought to showcase leadership, innovation and entrepreneurial spirit. The lawyers recognized for their work in Canada are making an impact not just throughout the country but across the globe. These titans of industry are the driving force behind a profession that is constantly growing and adapting while still maintaining the integrity on which it was built.
The Best Lawyers in Canada recipients demonstrate a comprehensive expertise in their practices. Along with a deep understanding of the law and their practice, The Best Lawyers in Canada honourees are so acknowledged for their ethics, adaptation and leadership.
"The Best Lawyers in Canada recipients exhibit a profound knowledge of the law as well as an unwavering commitment to their clients, their communities and their pursuit of justice," stated Phillip Greer, CEO of Best Lawyers. "These lawyers have been recognized by their peers for their leadership, their innovative legal strategies for clients and their pursuit of justice. Their professionalism sets them apart as true principals in the legal field."
The Best Lawyers in Canada is a peer-reviewed award for a client-reviewed industry. In a field where the client is putting their confidence in their legal representation, only the best will do. Best Lawyers is committed to assembling a source for clients to identify the highest recommended lawyers as selected by other lawyers each and every year.
The Best Lawyers in Canada awards are a signet of esteem among lawyers, and along with the celebratory recognitions, they are also a symbol of integrity to law firms and their clients.
"These rankings are a testament to our lawyers' client-first approach and their commitment to providing exceptional service," stated international law firm Dentons of their Best Lawyers recognitions. Industry leaders understand just how crucial awards like The Best Lawyers in Canada are because they set apart the best, brightest and most adept. These awards uniquely and fairly capture the opinions and recommendations of other industry leaders who stand among those ranked the best.
When faced with some of life's most difficult legal decisions, having a trusted lawyer with years of experience, fortitude and knowledge on their side is imperative to clients.
The Best Lawyers in Canada 2024 Awards
Clients in Canada seek legal representation for a host of reasons, many of which are personal and often life changing. When such a need for legal counsel arises, it is important to have the most valuable resources accessible to seek the most trusted advisors. While The Best Lawyers in Canada includes 77 individual practice areas for recognition, there are some that stand out as the most vital to clients year over year. For 2024, those include practices like Personal Injury Litigation, Insurance Law, Corporate Law, Family Law, Real Estate Law and several others in the corporate, technology and personal legal spheres.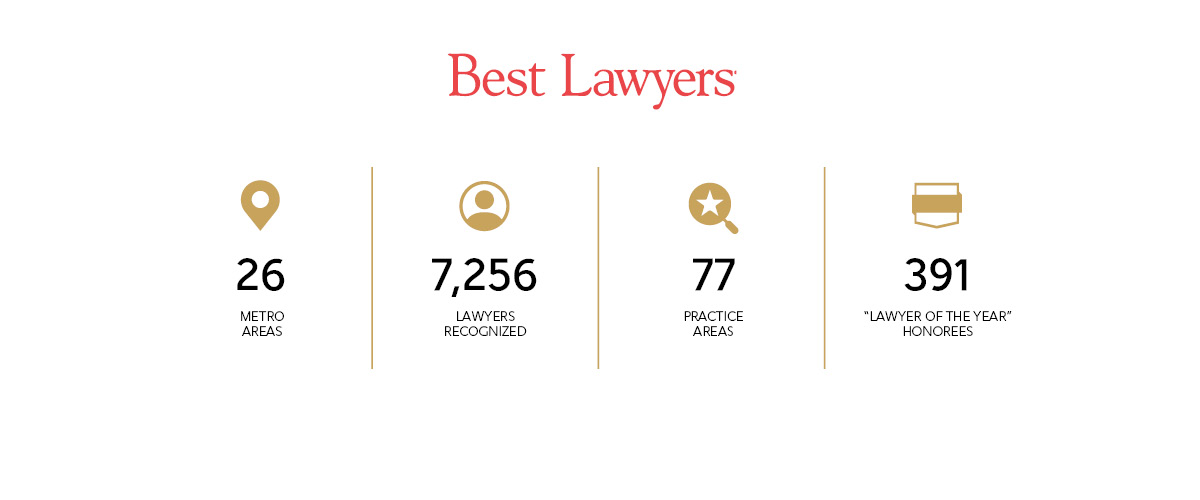 The Best Lawyers in Canada 2024 awards include 7,256 lawyers recognized in 26 metropolitan areas across the country. Our Find a Lawyer tool helps clients seek legal representation in any one of these metropolitan and practice areas.
The Highest Recognitions Bestowed
Along with individual awards for The Best Lawyers in Canada, we also celebrate nearly 400 recognized "Lawyer of the Year" recipients. These lawyers received the highest overall peer feedback in their particular metropolitan and practice area.
"Lawyer of the Year" recipients exhibit exceptional talent and have made impressionable career moves that are recognized by their peers. They have notable success in their fields and are looked to as thought leaders in the industry.
"This accolade stands as a beacon of recognition to those who have demonstrated unparalleled expertise and made a lasting impact on their peers and the legal community. 'Lawyer of the Year' recipients embody the ideals of excellence and leadership that Best Lawyers holds in such high regard, and these individuals set the standard for legal professionals everywhere," explained Greer.
In addition to the "Lawyer of the Year" awards, Best Lawyers is also pleased to announce the "Law Firm of the Year" awards for Canada. These awards are bestowed to a single firm nationwide for excellence in a specific practice area. Based on several pieces of criteria, including feedback from recognized lawyers, a historical analysis of the firm's "Lawyer of the Year" awards and peer-review scores of the firm, these awards are a culmination of peer review and in-depth examination of a firm's work.
Announcing the 2024 Recipients
It is our most sincere pleasure to announce The Best Lawyers in Canada awards for 2024, signifying the top legal talent as voted on by the best and brightest in Canada. We proudly offer our biggest congratulations to all lawyers recognized in the 18th edition of The Best Lawyers in Canada.