Through an extensive and careful nomination and peer review voting process, Best Lawyers® offers unbiased legal referrals from top rated lawyers across the world. We have highlighted the extraordinary talent and accomplishments of the legal community for more than four decades.

Lawyers who are nominated for consideration are voted on by currently recognized Best Lawyers working in the same practice area and located in the same geographic region. Our awards and recognitions are based purely on the feedback we receive from these top lawyers. Those who receive high peer reviews undergo a thorough verification process to make sure they are currently still in private practice. Only then can these top lawyers be recognized by Best Lawyers.

The year 2023 marks the 12th edition of The Best Lawyers in Belgium™ and recognizes the professional excellence of 630 lawyers in 55 practice areas, including 38 "Lawyer of the Year" recipients. "Lawyer of the Year" honors are awarded annually to only one lawyer per practice area in each region with extremely high overall feedback from their peers, making it an exceptional distinction.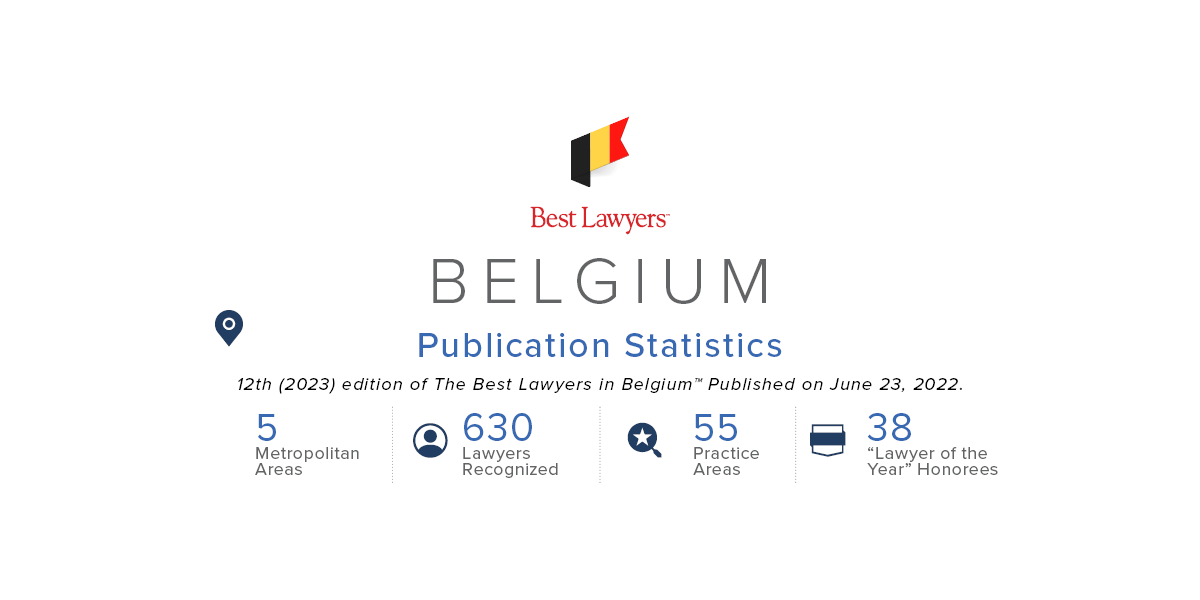 Publication Statistics
Here are highlights from the 2023 12th edition of The Best Lawyers in Belgium™:
55 Practice Areas Represented
38 "Lawyer of the Year" Honorees
Five metropolitan areas.
Brussels is the metropolitan area with the most listed lawyers.
Top 10 Practice Areas in Belgium by Number of Recognized Lawyers:
Competition / Antitrust Law
European Union Law
Corporate Law
Mergers and Acquisitions Law
Litigation
Labor and Employment Law
Trade Law
Arbitration and Mediation
Banking and Finance Law
Tax Law
Top 10 Practice Areas Searched in Belgium on www.bestlawyers.com:
Competition / Antitrust Law
Corporate Law
Trade Law
Litigation
Mergers and Acquisitions
European Union Law
Technology Law
Arbitration and Mediation
Energy Law
Bet-the-Company Litigation
The "Lawyer of the Year" Honorees for 2023 in Belgium are:
Alain Huyghe
Alexander Vandenbergen
Anton R. van Zantbeek
Benoit Van Asbroeck
Bernard E. Amory
Bob Martens
Charles-Antoine Leunen
Chris Van Olmen
Christian Riis-Madsen
Christophe Ronse

Intellectual Property Law

Deborah Janssens
Elke Duden
Eric Van Hooydonk
Evelyne Van der Elst
Frederic Depoortere

Competition / Antitrust Law

Gauthier van Thuyne
Guy Van Doosselaere
Hakim Boularbah
Hans Kets
Jacqueline Mailly

Biotechnology and Life Sciences Practice

Jean-François Tossens

Arbitration and Mediation

Jos Dumortier

Privacy and Data Security Law

Katrien Vorlat
Kristof De Vulder
Luc Meeus
Nathanaelle Kiekens
Patrick Van Eecke

Information Technology Law

Peter De Smedt
Peter W.L. Bogaert
Renato Antonini
Rony Vermeersch
Rudy Dupont
Sophie Jacmain

Insolvency and Reorganization Law

Tom Bauwens
Vincent Macq

Mergers and Reorganization

Vincent Ost
Wouter Ghijsels
Xavier Remy
Interested in seeing Best Lawyers honorees in Belgium? Use our Find a Lawyer tool to search by location and specialty.
Access the full report of Best Lawyers international releases, updated continuously.