After the success and warm reception of the inaugural Best Lawyers: Ones to Watch in Canada™ last year, in which lawyers recognized the up-and-coming talent of their peers, we are proud to announce the second edition for 2023.
Related: The Best Lawyers in Canada™ 2023 Awards
2023: How We Grew in Year Two
The second edition of Best Lawyers: Ones to Watch in Canada awards 810 lawyers in 39 practice areas. These awarded lawyers span 14 metropolitan areas and 135 firms across the country.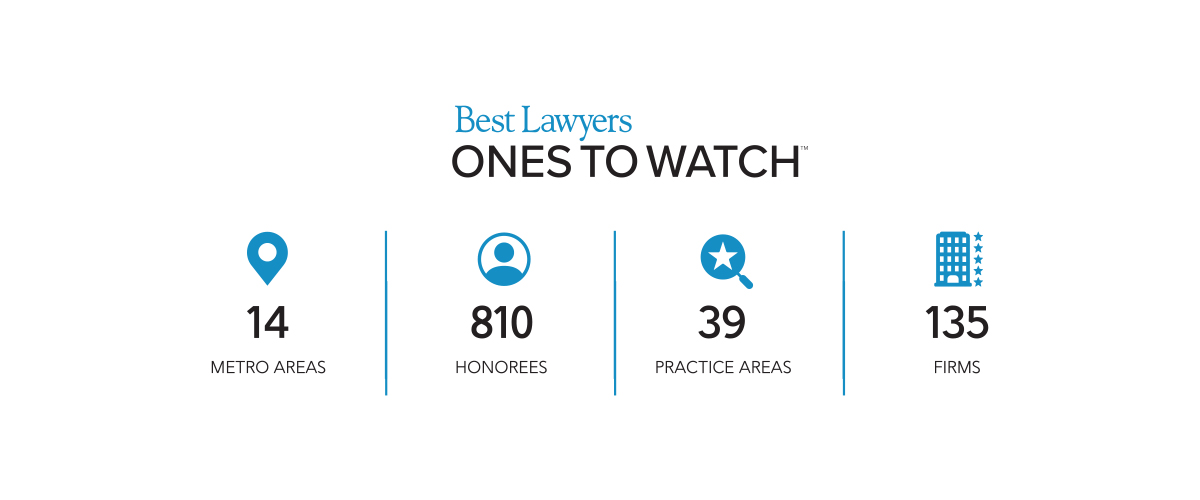 Out of the 39 practice areas for which lawyers were recognized, these five have the most awarded lawyers: Corporate and Commercial Litigation, Mergers and Acquisitions Law, Corporate Law, Real Estate Law and Labor and Employment Law.
The methodology for Best Lawyers: Ones to Watch in Canada is the same as that of The Best Lawyers in Canada, dependent entirely on a nomination and peer-review process. To be eligible for Best Lawyers: Ones to Watch in Canada, lawyers must be in private practice and have a tenure of three to eight years.
Best Lawyers Senior Research Manager Kristen Greer explained more about the initial decision to expand "Ones to Watch" to Canada and the evolution of the recognitions this year, stating: "We had aimed to expand the scope of research, but we were certainly bolstered by firm and client interest. Any time we can help lawyers and clients to connect, we want to pursue that."
"Ones to Watch" honors give senior associates and up-and-coming lawyers the opportunity to expand their digital reach through our awards. Lawyers are encouraged to tout the inclusion of themselves and their colleagues, as the purely-peer-reviewed methodology speaks to how their fellow lawyers have identified their professional work as elite and esteemed.
Though often recognized for their years of work leading to partner level, it's important to remember that lawyers newer to the field are recently stepping in after an arduous tenure in law school, internships and tutelage to prepare for their legal careers. Many are already making momentous strides in their careers, and "Ones to Watch" recognitions highlight such lawyers with our awards.
Where We Go From Here
Best Lawyers: Ones to Watch exists in 10 countries currently, and we are aiming for more in the years to come. But these awards will always be rooted in countries like Canada, which was pivotal in our expansion of such recognitions. Canada continues to share a wealth of legal talent each year, further bolstering our cause to honor lawyers at all stages of their careers. As the legal world continues to expand, grow and prosper, so too will Best Lawyers: Ones to Watch in Canada.