In an industry built on tradition, convention and professional esteem, current leaders understandably don't always have innovation as their top priority. The logic and structure inherent to the legal process have for centuries guided the profession by upholding the importance of knowledge, credibility, rectitude and adherence to protocol. And although more recently minted lawyers aren't attempting to thoroughly upend what tradition has wrought, they know that modernization, technological and otherwise, lends itself to new and exciting ways to reimagine the practice of law. Those who do it best—the brightest and most promising among the ever-growing roster of legal talent—are worthy of acclaim and celebration, notably in the 4th edition of Best Lawyers: Ones to Watch­® in America.

The Rising New Guard
Attorneys recognized by Best Lawyers: Ones to Watch in America are, as defined by the award itself, in the earlier stages of their careers, eligible in their fifth through tenth years of practice. They've already begun making waves in a vast ocean of colleagues, opposing counsel, clients and law firms, and their outstanding work is increasingly drawing the notice of their peers.
Why is this particular award so important? "While our traditional Best Lawyers awards honor established lawyers and the essential work they do, we knew it was time to look toward the growing industry of young, up-and-coming talent," says Best Lawyers CEO Phillip Greer, who was instrumental in the development and 2020 launch of Best Lawyers: Ones to Watch in America. "This is a celebration of acuity and brilliance displayed by the exceptional attorneys pioneering the profession into the next decade."
Over the last several years, the industry has toiled to keep up with the demands of technological advances, a cataclysmic pandemic and a world that increasingly values diversity and transparency. Ushering in fresh perspectives and innovations while still respecting the classic tenets of a successful career in the law, these young lawyers blaze their own trail, combining verve and industriousness with hallowed tradition into a new professional model all its own.
Embracing the Past, Building the Future
Mentors—whether fellow firm members, other colleagues or peers—are paramount to any young professional with bright ideas and a commitment to justice. Many of those honored in Best Lawyers: Ones to Watch in America work alongside some of the most respected experts in the field—an invaluable resource as the new cohort works to establish its practices.
It's important to note that The Best Lawyers in America® and Best Lawyers: Ones to Watch in America are truly singular accolades. Best Lawyers: Ones to Watch in America honorees are awarded for their talent, voted on by other "Ones to Watch"-recognized and -nominated peers. As their skills grow, so too do their opportunities for new awards year by year. Once they've passed their first decade in practice, the universe of Best Lawyers honors for which they're eligible expands significantly.
"Excellence in practice doesn't simply happen overnight when a lawyer's work is recognized through promotion mid-career," says Elizabeth Petit, Best Lawyers' Director of Research and Development. "It accumulates and grows, as they do, over time. The Best Lawyers: Ones to Watch in America awards regard the hard work and legal expertise of individuals on the path to industry leadership, and thus they deserve their own recognition. These accolades honor legal exceptionalism, offering a rare opportunity to celebrate law's brightest talent earlier in their career."
Decorum and a sense of inheritance and stewardship of the majesty of the law remain as important as ever, of course—but firms' welcoming new blood and fresh ideas makes for a mutually beneficial merger of tenured lawyers and their younger associates.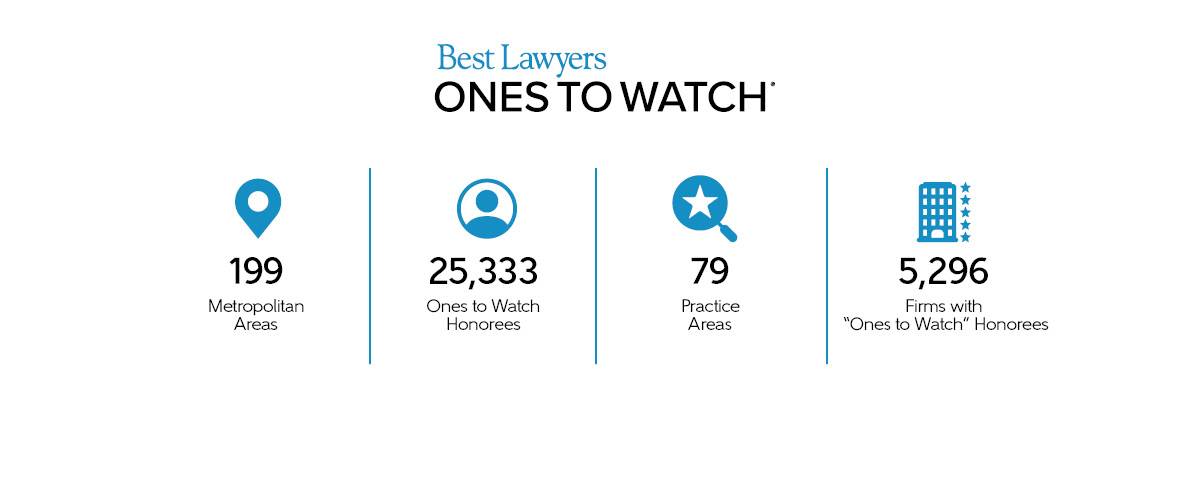 These 2024 awards highlight thousands of emerging legal talents worldwide, showcasing their exemplary work as voted on by their peers. Undergirded by the trusted Best Lawyers peer review methodology, Best Lawyers: Ones to Watch in America is committed to honoring the finest legal talent who have been in practice between five and ten years.
Over the last four years, Greer says, it has been "inspiring to witness such growth in such a short time. These talented professionals have continued to ascend and light a path forward for both them and their peers. It is their promise, potential and commitment to the law that propel them to greater success every year. We congratulate those who return for another year of recognition, many since the first edition in 2020, and we welcome the newest batch of talented lawyers joining the ranks."
Best Lawyers is proud to continue its celebration of originality, triumph, skill and wisdom with this year's 4th edition of Best Lawyers: Ones to Watch in America.