Since 1981, Best Lawyers™ has produced the most reliable, unbiased source for legal referrals. We highlight the extraordinary accomplishments of those in the legal profession with a list of outstanding lawyers compiled by conducting exhaustive peer review surveys. We are honored to announce the 16th Edition of The Best Lawyers in Canada™.
The first of its kind, Best Lawyers™ met the need for efficient legal recommendations in a time long before accessibility to the internet and search engines. What began as a small directory of names has grown into an internationally recognized brand. Known for a carefully curated list of attorneys, our sophisticated methodology yields the most accurate, authentic legal referrals for individuals, corporations and clients seeking legal counsel.
Candidates who are nominated for consideration are voted on by currently recognized lawyers working in the same practice area and located in the same geographic region. Our awards and recognitions are based purely on the feedback we receive from these top lawyers. Those who receive high peer reviews undergo a thorough verification process to ensure they are currently still in private practice. Only then can these top lawyers be recognized by Best Lawyers. So, what makes this methodology so unique? According to Elizabeth Petit, Director of Research & Development and Managing Editor, "Best Lawyers is singular in our peer review methodology. It is the opinion of our voters on their peers' expertise that drives our recognitions. Other awards platforms consider resume submissions and financial participations when making their lists. Best Lawyers stands alone as no one can pay to be nominated or recognized and it is solely the feedback of voters that drives our individual awards."
This year, we highlight the professional excellence of 6,881 lawyers in 75 practice areas across Canada for 2022. There are 1,109 law firms across the country represented on this list. Best Lawyers™ honored approximately 15% of practicing lawyers in Canada, exemplifying the work of the most elite and top-rated lawyers in the country.
We are pleased to celebrate 427 "Lawyer of the Year" recipients across Canada. "Lawyer of the Year" honors are awarded annually to only one lawyer per practice area in each region with extremely high overall feedback from their peers, making it an exceptional distinction.
For 2022, we are also excited to announce our First Edition of Best Lawyers: Ones to Watch in Canada. Eligibility for Best Lawyers: Ones to Watch in Canada includes being in private practice and a tenure of five to nine years. With the same methodology that is used for The Best Lawyers in Canada, our Best Lawyers: Ones to Watch in Canada list uses an advanced process of nominations, peer voting and careful evaluation of results to provide a list of the top legal talent in the industry among newer lawyers. For the 2022 Edition of Best Lawyers: Ones to Watch in Canada, we recognize 588 lawyers in 39 practice areas. Lawyers are listed in 102 firms across 13 metropolitan areas.
After so many years, it's important to ask what prompted Best Lawyers to launch this new list, which currently produces lists in four countries with plans to grow in three more next year. Elizabeth said, "We saw a need in the industry to recognize talented attorneys earlier in their careers. It is not as if one just becomes a great lawyer when they make partner. Attorneys put in years of hard work to reach partner status and we wanted to identify emerging talent. Additionally, many clients will interact with associates on any given case. Thus, it's important to help clients identify attorneys who have third-party vetting. And lastly, we wanted to give senior associates and other younger attorneys the opportunity to build a digital footprint just as the more senior attorneys have the ability to do."
This year has undoubtedly had its challenges for so many. For Best Lawyers, we put in substantial work to persevere during a year of uncertainty. Elizabeth's research team had the daunting task of undergoing the yearly nomination and voting process, many of them from their new-normal work from home set-ups. But not only did they maintain the yearly success, they exceeded it, with bigger lists and top levels of participation. Elizabeth said of her team and the past year, "While we all hoped to be back to business as usual by now, that unfortunately still isn't the case. But the need for legal services has only increased during this time. Thus, it is our responsibility to continue our work to highlight and award the best in the industry. We pride ourselves on being collaborative partners with firms to ensure the proper candidates are nominated and to encourage voting participation as everything feeds from that process. I have a wonderful, dedicated team of researchers who strive to provide the best experience possible for our attorneys and marketing teams. We are better together and continue to strive to produce the best awards possible."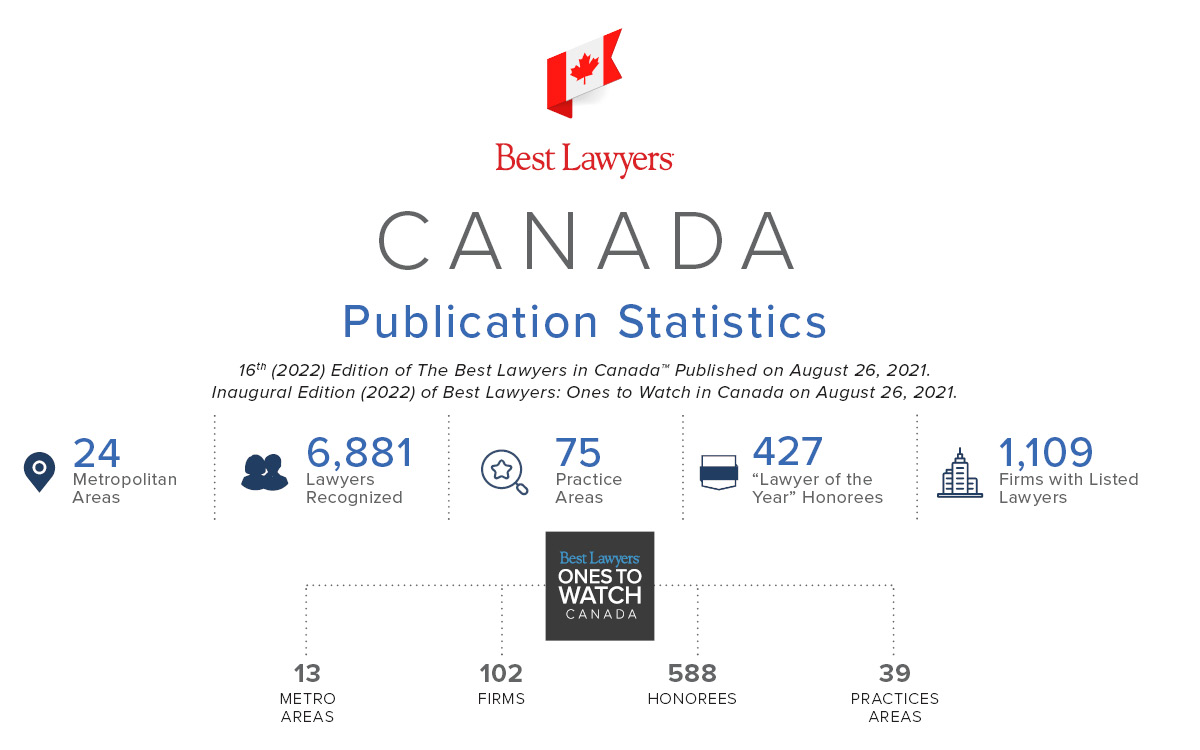 Publication Statistics
Here are highlights from the 2022 16th Edition of The Best Lawyers in Canada:
6,881 Lawyers Recognized
1,109 Firms with Listed Lawyers
75 Practice Area
Top Metro Area in Canada by Number of Listed Lawyers:
Top 10 Practice Areas by Number of Recognized The Best Lawyers in Canada Honorees:
Corporate and Commercial Litigation
Labour and Employment Law
Insurance Law
Securities Law
Mergers and Acquisitions Law
Personal Injury Litigation
Banking and Finance Law
Construction Law
Top 5 Practice Areas by Number of Recognized Best Lawyers: Ones to Watch in Canada Honorees:
Corporate and Commercial Litigation
Mergers and Acquisitions
Real Estate Law
Intellectual Property Law
Insolvency and Financial Restructuring Law
Top 10 Practice Areas Searched for on www.bestlawyers.com in the Last Year:
Immigration Law
Family Law
Labour and Employment Law
Real Estate Law
Corporate Law
Trusts and Estates
Corporate and Commercial Litigation
Insurance Law
Criminal Defence
Medical Negligence
Get more legal content, including attorney submitted articles and legal news, delivered to your inbox every week. Sign up for All Rise, the newsletter by Best Lawyers.
Interested in seeing The Best Lawyers in Canada and Best Lawyers: Ones to Watch in Canada honorees? Use our Find a Lawyer tool to search by location and specialty.
Access the full report of Best Lawyers releases, updated continuously.