Launched in 2006, The Best Lawyers in Canada™ is our second-largest award list and highlights the growing legal talent across Canada. For 17 editions, we've celebrated the extraordinary accomplishments of those in the legal profession through exhaustive peer-review surveys. Using the same trusted methodology that Best Lawyers has used for more than four decades, The Best Lawyers in Canada is a comprehensive guide to the most prestigious, gifted lawyers in the country.
Related: Best Lawyers: Ones to Watch in Canada™ 2023 Awards
2023: A Continuation of Tradition in the 17th Edition
For the 17th edition of The Best Lawyers in Canada, we recognize 6,902 lawyers in 77 practice areas. These awards are spread across 24 metropolitan areas and 1,120 law firms. The recognitions were compiled from more than 1,600,000 lawyer evaluations.
Out of a possible 77 practice areas, Canada has the most lawyers awarded in Corporate and Commercial Litigation, Corporate Law, Labor and Employment Law, Mergers and Acquisitions Law and Real Estate Law.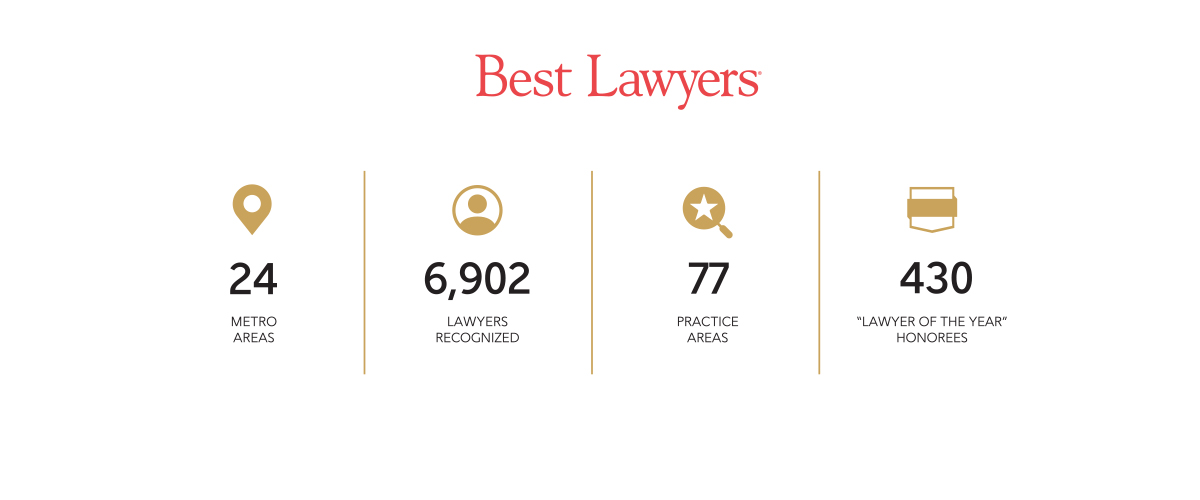 The Best Lawyers in Canada awards also include 431 "Lawyer of the Year" Recipients. "Lawyer of the Year" recognitions are awarded annually to the lawyers with the highest voter feedback in their particular metropolitan area and practice area.
Along with celebrating lawyers, the 2023 edition also recognizes 26 law firms who received a combined 32 "Law Firm of the Year" awards. "Law Firm of the Year" awards recognize a single top firm for its work in a specific legal practice area nationwide. There are a few factors that determine these awards, including lawyer feedback, the number of lawyers included in Best Lawyers for that firm and practice area, the number of office locations a firm has, historical analysis of the firms "Lawyer of the Year" awards, materials submitted by firms and the firm's overall scope and areas of practice. Firms are eligible for up to two practice area awards each year, and firms like Bennett Jones, Blake Cassels & Graydon, Davies Ward Phillips & Vineberg, Fasken, Gowling WLG and Osler, Hoskin & Harcourt all received two "Law Firm of the Year" practice area awards each for 2023.
The Best Lawyers in Canada remains an exclusive list of the top legal talent in the world, but it's a testament to the growth of expert lawyers in the country, as the 17th edition added over 400 more lawyer awards for 2023.
What's New: How We Grew
With each new research cycle, we evaluate the practice areas we offer and determine where changes and additions could help strengthen our awards for lawyers and clients. For the 17th edition, we added a few new practice areas, including Expropriation Law as well as FinTech Practice. The two practice areas saw a combined 47 awards for The Best Lawyers in Canada. Best Lawyers Senior Research Manager Kristen Greer, who oversees the entire Canadian research cycle, also explained that for this year, "we have also altered the scope of some areas to better reflect the practitioners recognized in the area." She and her team of researchers dedicate much of their efforts to ensuring that we offer the most precise and comprehensive practice areas for the Canadian legal market.
In doing so, Greer and her team also focus much of their efforts working with recognized lawyers to encourage nominating, voting and sharing awards through Canada. "Similar to our peer-review methodology, we believe that relationships matter. Thus, we continue to provide consistent communications, technological tools and marketing-focused materials to make the most of a firm's recognitions online and in print with our publication partners."
Best Lawyers produces a full Canadian print and digital magazine every year in the winter, recognizing all awards across the country. Canadian awards are also highlighted in a global publication produced in the fall. Both include all Canadian recognitions as well as thought leadership editorial pieces from lawyers in Canada. This provides comprehensive views of our Canadian awards to lawyers, firms and clients across the country and allows us to honor the elite lawyers recognized each year.
It's Our Honor
Although we are awarding lawyers for their work, it remains our most esteemed honor to provide Canada with the top legal talent as voted through the most comprehensive surveys. We proudly extend our biggest congratulations to recognized lawyers in The Best Lawyers in Canada for 2023!