More than 40 years ago, in 1981, when Best Lawyers was established, individuals couldn't search Google reviews or social media pages to compare the awards and reputations of lawyers and law firms; they relied on word-of-mouth recommendations. Harvard Law graduates Gregory White Smith and Steven Naifeh founded Best Lawyers on the principle that the best lawyers would know, and be able to recognize, the best lawyers in their location and practice area.
2023: A Year of Growth
Best Lawyers awards are compiled by conducting exhaustive peer-review surveys in which tens of thousands of leading lawyers confidentially evaluate their professional peers. The 29th edition of The Best Lawyers in America recognizes only the top 5.3% of elite lawyers in the nation across 150 practice areas. We saw a 17% increase in votes received for 2023 over 2022. More than 12 million evaluations were considered, including submissions from lawyers with whom they've opposed in court, to identify this year's exclusive group of Best Lawyers honorees.
Related: Read about the 2023 Best Lawyers: Ones to Watch in America™ awards.
Best Lawyers proudly presents our 2023 United States recognitions. With our comprehensive balloting process that positions Best Lawyers as the gold standard in the industry, these exclusively peer-reviewed recognitions are bestowed to only 71,437 lawyers this year.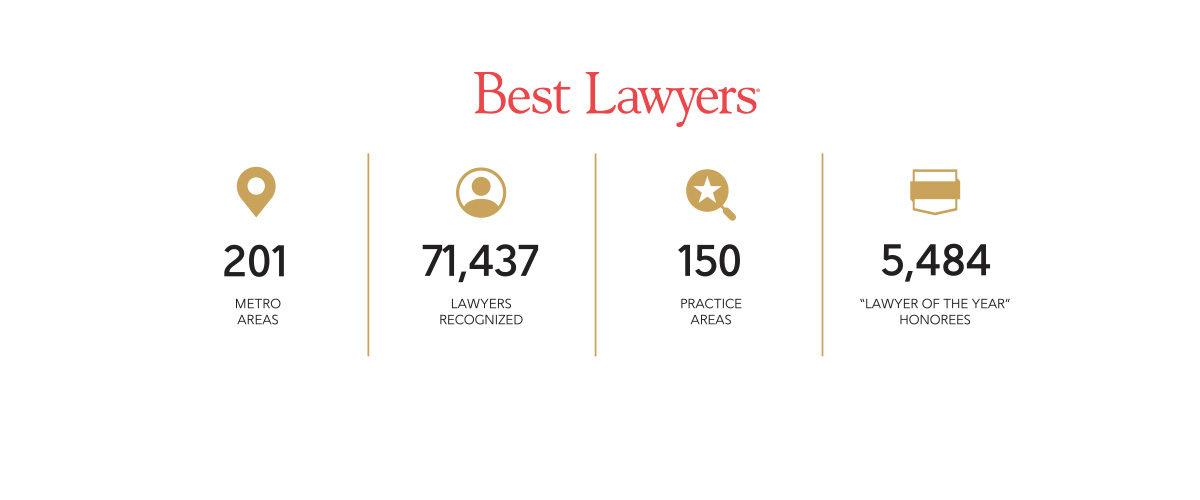 For 2023, two new practice areas were also added as eligible awards: Juvenile Law and Social Security Practices. We remain cognizant of growing needs in the legal industry, and these two specializations encapsulate the unique and specific nature of evolving law practices and client needs.
Participation rates among some of the nation's most notable firms soared for the 2023 edition, with many adding numerous awards to their repertoire of accolades. Kirkland & Ellis, Latham & Watkins, DLA Piper, Baker McKenzie, Skadden, Arps, Slate, Meagher & Flom and Sidley Austin were among some of the top participating firms for the 29th edition, from nominations to voting, and their award resume speaks for itself.
Particularly noteworthy are the gender demographics for the 29th edition. "While gender demographics are still very slowly changing (especially at the senior partner level), we did see a 17% growth in the number of female lawyers represented in this year's edition," said Director of Research & Development and Managing Editor at Best Lawyers, Elizabeth Petit. "Our awards continue to highlight more female awardees each year as the legal industry catches up to other professions in terms of gender disparity."
More encouraging still, noted Petit, was that "with business practices shifting under COVID-19, we saw more firms offer flexible working conditions, which directly supports work-life balance and keeps more senior associates on the career path to partner." Petit also shared that 2022 held the record of the "highest representation of newly named female partners," 42% as affirmed by Law 360, and that she expected "this foundational growth to ripple through our awards in the near future."
Along with Best Lawyers awards come "Lawyer of the Year" designations. This award is bestowed to only one lawyer with the highest average of votes in their particular practice and region, indicative of a stellar reputation and work ethic. For 2023, only 5,484 lawyers, 0.4% of all practicing U.S. lawyers, across the country were presented this award.
A Cyclical Occurrence
In the wake of not only a global pandemic, but growing economical and sociological concerns, the need for legal counsel is greater than ever. It's important that clients have a source they can trust to give them confidence when making impactful legal decisions. Best Lawyers' Purely Peer Review™ format offers the unbiased opinions of other lawyers, guaranteeing users the most knowledgeable resources to meet their needs.
The pandemic ushered in a trend that we've learned to anticipate, especially with economic recessions. "We saw an increased number of retirement announcements this year. It would not be surprising if we continue to see a higher percentage of retirements over the next year or two," Petit noted. Despite this, there is no shortage of talent in the legal community, and our 29th edition is evidentiary of the prestige that continues to inhabit this field.
Out of 150 practice areas in total, there are ten with the largest showing of Best Lawyers honorees in the 29th edition, including Commercial Litigation, Real Estate Law, Personal Injury Litigation – Plaintiffs, Corporate Law, Labor and Employment, Employment Law – Management, Trusts and Estates, Family Law, Bankruptcy and Creditor Debtor Rights / Insolvency and Reorganization Law and Personal Injury Litigation – Defendants.
Leading by Example
With advancements in technology and the modernization of publications in the digital age, Best Lawyers CEO Phillip Greer is perhaps one of the best equipped to lead a legal awards company into the future. It was Greer who took the company and its products into the digital age in the last few decades, and it is Greer who continues to guide our methodology forward.
The growing legal talent in the country, the lawyers who practice nuanced and niche practice areas in which more and more people need legal representation, have propelled us to the prestige we maintain today. As noted by Greer, "Lawyers have become consultants as well as providers of sound legal advice, and their growth continues to parallel that of Best Lawyers."
With Best Lawyers' newly redesigned website increasing accessibility to the nation's top legal talent highlighted in our 29th edition, consumers of legal services are better served while researching their legal concerns. The practice areas most often searched for on the website within the last year are Commercial Litigation, Trusts and Estates, Family Law, Real Estate Law, Personal Injury Litigation – Plaintiffs, Corporate Law, Litigation - Labor and Employment, Construction Law, Medical Malpractice Law and Employment Law – Management, which closely mirror the list of popularized practice areas for 2023.
Backed by a research team of talented professionals, the yearly process of sourcing nominations, sending out ballots and tallying votes is no small task. But it's worth every effort to bring the utmost quality to our online services and publications and offer prestigious and well-researched lawyer awards.
Representation of the top legal talent and providing clients a resource for legal counsel are our top priorities, and our elite 2023 Best Lawyers honorees represent that.
Interested in seeing The Best Lawyers in America 2023 honorees in the United States? Use our Find a Find a Lawyer tool to search by location and specialty.