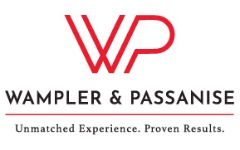 Wampler and Passanise Law Office

2974 East Battlefield Road
Springfield, MO 65804
United States
(417) 427.6800
Firm Details
For more than seven decades, Wampler & Passanise Law Office has provided best-in-class defense for juveniles and adults facing serious criminal allegations at the local, state and federal levels. The firm has an extensive team that provides clients the best defense available in the Midwest with expertise in serious drug and firearm charges; homicide; fraud; and white-collar crime, as well as DWI/DUI, domestic violence, burglary and probation violations.
Wampler received his Juris Doctor from the University of Missouri-Columbia School of Law. He served as assistant prosecutor for Greene County before being elected to prosecuting attorney in 1971-72. He is one of the youngest ever elected to that position. Wampler began private practice in 1973, specializing in felony criminal defense. Several of his most high-profile cases have been featured on Inside Edition, Prime Time, and Court TV.
Passanise obtained his Juris Doctor, with honors, from Washburn University School of Law. He is licensed to practice before the Supreme Court of the United States, the Eighth Circuit Court of Appeals, and both the Western and Eastern District Federal Courts in Missouri. He was awarded the Charles M. Shaw Award for excellence in trial advocacy in 2013. He is past president of the Missouri Association of Criminal Defense Lawyers; a member of the National College of DUI Defense; the National Child Abuse Defense and Resource Center; and a member of the National Trial Lawyers Criminal Defense Top 100 for 2020. Passanise was appointed to the Missouri Tourism Commission by Governor Mike Parson in 2020 and was named Best Lawyers® 2021 Springfield Criminal Defense Lawyer of the Year.
Both Wampler and Passanise are Fellows of the American Board of Criminal Lawyers (ABCL).
Awards
US. News & World Report Best Law Firms
Missouri & Kansas Super Lawyers
Super Lawyers
Best Lawyers in America
Contacts
Firm Practice Areas
Criminal Defense: General Practice
Criminal Defense: White-Collar
Drug Offenses
Sex Abuse
Vehicular Manslaughter
Violent and Nonviolent Crimes
Office Locations
United States
United States
Missouri
Missouri
Springfield, MO
2974 East Battlefield Road
Springfield, MO 65804
United States