Firm Profile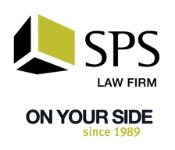 Rua General Firmino Miguel, n.º 5 – 11º
Lisbon 1600-100
Portugal
351 217 803 640
Firm Details
SPS is a Law Firm with 30 years of existence, with an accumulated experience in all areas of legal practices, providing assistance to both corporate and individual clients.
It is comprised by a multidisciplinary and seasoned team of Lawyers, that prides itself and is focused on delivering tailor-made solutions for each individual client.
Since its very beginning, SPS Advogados was determined and focused in implementing Technology and Innovation tools with its partners, in order to better serve its clients.
With the recent advances in the tech industry, SPS is steadily moving towards being a "100% digital law firm", where automatisms and artificial intelligence will enable an increasingly efficient and transparent service provision to each of our customers.
We are a law firm that has grown organically, permanently focused on human capital, providing constant training and promoting the career development of its lawyers.
SPS is led by the desire for a correct and balanced management of our business, based on the principle of "Responsible Business" where Ethics, Diversity, Gender Equality, Respect for the Environment and Local Communities, among other values, are a priority concern.
Over these 30 years we have grown alongside our customers, developing close partnerships and reliable relationships.
Demographics
Associates
Women: 46
Men: 13
Other Lawyers
Women: 25
Men: 5
Non-Legal Employees
Women: 10
Men: 3
Contacts
Raquel Macedo
CMO
+351217200002
Firm Practice Areas
Administrative Law
Advertising Law
Arbitration and Mediation
Asset Finance Law
Banking and Finance Law
Civil Rights Law
Constitutional Law
Construction Law
Corporate Law
Criminal Defense
Environmental Law
Family Business Law
Family Law
Financial Institutions
Immigration Law
Information Technology Law
Insolvency and Reorganization Law
Insurance Law
Intellectual Property Law
Investment
Labor and Employment Law
Litigation
Maritime Law
Media Law
Mergers and Acquisitions Law
Offshore
Planning
Privacy and Data Security Law
Public Law
Real Estate Law
Regulatory Practice
Tax Law
Technology Law
Telecommunications Law
Trade Law
Office Locations
Portugal
Portugal
Lisbon, Portugal
Rua General Firmino Miguel, n.º 5 – 11º
Lisbon 1600-100
Portugal