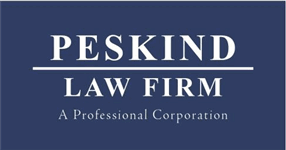 Peskind Law Firm

2445 Dean Street, Suite E
St. Charles, IL 60175
United States
(630) 444.0701
Firm Details
Steven N. Peskind is the principle of the Peskind Law Firm based in St. Charles, Illinois. His firm concentrates in family law matters throughout the State of Illinois.
He graduated from Tulane University and DePaul College of Law. He is a fellow of the American Academy of Matrimonial Lawyers and is an elected member of the American Law Institute and the American Bar Foundation. He recently served on the Illinois Family Law Study Committee working to improve Illinois family laws.
Mr. Peskind is a faculty member of the Family Law Trial Advocacy Institute presented annually in Boulder, Colorado by the ABA Family Law Section in conjunction with the National Institute of Trial Advocacy. In addition, he serves as Co-chair of the Publication Board of the ABA Family Law Section. Mr. Peskind also serves on the faculty of the Oklahoma State Bar Family Law Section Trial Institute.
Mr. Peskind speaks nationally on a variety of family law topics. He has been the keynote speaker for several state family law presentations and has spoken on such diverse topics as evidence, trial techniques practice management and divorce taxation.
Mr. Peskind has written four books: "The Family Law Trial Evidence Handbook" published by the American Bar Association; "Divorce In Illinois," published by Addicus Press; "100 Days Before Trial" will be published by the American Bar Association in October 2015; and "The Changing Face of Illinois Family Law: 2016 Marriage and Dissolution of Marriage Act Overhaul," will be published by the Illinois Institute of Continuing Education in October 2015.
Mr. Peskind has also written numerous chapters and articles, including three academic law review articles. The law review articles examined redefining parentage in the age of assisted reproductive technology and the origin and utility of the best interest standard in determining child custody. A law review article published in 2013 focused on hearsay evidence in child custody proceedings. In 2005 he was inducted into Scribes, a legal writing honor society.
Mr. Peskind has been recognized as one of the Best Lawyers in America. The Leading Lawyers Network has designated Mr. Peskind a Leading Lawyer since 2003 and the Super Lawyers has recognized him as a Super Lawyer since 2008. In 2015 Best Lawyers honored him with the award of Family Lawyer of the Year in Chicago.
About Our Clients
The Peskind Law firm limits its practice to divorce and family law, with a focus on complex financial and custody matters. Specifically the firm represents high net worth individuals in the valuation and distribution of closely held businesses and related matters. Additionally, the firm also represents parents in child custody matters, including but not limited to child removal and relocation.

While based in St. Charles, the firm selectively represents people throughout the State of Illinois in both the trial and appellate court.
Contacts
Office Locations
United States
United States
Illinois
Illinois
St. Charles, IL
2445 Dean Street, Suite E
St. Charles, IL 60175
United States