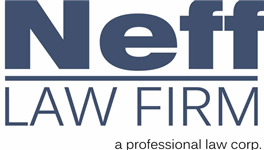 Media Center, Fourth Floor
1600 Rosecrans Avenue
Manhattan Beach, CA 90266
United States
310-321-7660
Firm Details
Neff Law Firm is a prominent transactional intellectual property, technology, data protection/privacy, commercial and international law firm that represents a wide range of technology, ecommerce and media companies, ranging from startups to the most recognized names in business. Present and/or past clients include Microsoft, Rubrik, JAMS, Logitech, Informatica, APM Music, Intuit, Yahoo!, eSalon.com, Symantec, Apple, Autodesk, eSalon.com, SnapLogic, Roland Corp. (US), Avantica Technologies, EV Connect, SunGard, PriceGrabber.com, LinkedIn/lynda.com, GroundTruth/xAd/WeatherBug, Auction.com, Spatial Systems, Video Copilot and the Business Software Alliance. We handle a wide range of corporate transactions, including M&A, joint ventures, distribution agreements, license agreements, and every variety of Cloud/SaaS/PaaS and related agreements. We frequently counsel clients on copyright and content issues, handle worldwide trademark portfolios, and counsel on worldwide personal data protection and privacy issues, ensuring compliance with GDPR, CCPA and implementing Privacy Shield. We represent US companies with overseas transactions, and many foreign companies on their US transactions. We have European and North and South American technology, ecommerce and social media clients from all major countries. We handle transactions in Spanish, French and Portuguese. The Firm's practice has benefited from the convergence of technology and media.
We are known for our tremendous responsiveness, high quality and agility, and in many cases we have represented important clients for over ten years.

The Firm provides legal services in the following areas:
Technology Licensing and Transactions

Internet and eCommerce Counseling and Transactions

Data Protection and Privacy (including GDPR, CCPA and implementation of Privacy Shield)

Mergers & Acquisitions (M&A) and other Corporate Transactions

Copyright & Trademark: Intellectual Property Counseling and Transactions

Antipiracy: Copyright and Trademark Infringement, Content and Fair Use Issues

International Law and Issues [sometimes using international network]

Startups & Emerging Growth Companies: Formation and Growth

Trademark Registration, Counseling, Docket Management and Disputes on International Basis

Structuring International Presence, Distribution and Channel Arrangements

Establishing Start-ups, Entities, Financing of Start-ups

Dispute Resolution
Neff Law Firm offers very high quality, specialized legal services at affordable rates. For clients without in-house lawyers, Neff Law Firm often plays an outside general counsel role. For clients with existing legal departments, who need to manage their legal costs, our expertise, quality, flexibility, efficiency and reasonable rates will prove equally attractive.
In 2019 we handled 3 M&A transactions very effectively for longtime clients (representing the Seller in each case), with large international firms representing the other side.
Neff Law Firm is particularly strong in international/cross-border transactions; perhaps 50% of the matters we handle have international aspects or involve international clients. Although a majority of our clients are based in California, including many in Silicon Valley, we have acted for clients based in Belarus, Belgium, Brazil, Canada, Chile, France, Germany, India, Japan, Malta, Mexico, Sweden, Switzerland and numerous clients in the United Kingdom. Certain major companies use us to handle issues that arise in Latin America because of our unique expertise there and language capabilities. We have a network of international lawyers with whom we work who can handle every matter that you confront. We have helped many companies expand their operations and sales in overseas markets, and enhance their international profile.
Management
Demographics
Partners
Men: 1
Caucasian: 1
Of Counsel
Women: 1
Caucasian: 1
Clients
Present & Past: Rubrik, JAMS, SnapLogic, APM Music, eSalon.com, Roland Corp. U.S., Informatica Corp., Logitech, Box, Inc., Microsoft, Apple, Yahoo!, lynda.com/LinkedIn, Avantica Technologies, Auction.com, Business Software Alliance (BSA)
Spatial Systems, Video Copilot, SunGard, Menlo Technologies, Saguaro Technology, Veritas, AAP, IDSA (now ESA), Autodesk, Bentley Systems, Nat'l TeleConsultants, EV Connect, Straight Up Technologies, Pepper Gate Footwear, Youngblood Mineral Cosmetics
About Our Clients
Neff Law Firm's Clients include a wide range of companies, from large public companies to internet startups. We represent companies based in California, other parts of the United States, and in 15 countries around the world.

Past and present clients include: Rubrik, JAMS, APM Music, SnapLogic, eSalon.com, Roland Corp. U.S., Informatica Corp., Logitech, Box, Inc., Microsoft, Apple, Yahoo!, lynda.com/LinkedIn, Avantica Technologies, Auction.com,  Business Software Alliance (BSA), Spatial Systems, Video Copilot, SunGard, Menlo Technologies, Saguaro Technology, Veritas, Association of American Publishers, IDSA (now ESA), Autodesk, Bentley Systems, National TeleConsultants, EV Connect, Straight Up Technologies, Pepper Gate Footwear, Youngblood Mineral Cosmetics, CSC Brasil, The Irvine Company, mibeTec GmbH, Alldatum SA de CV, Burkert International AG
Firm Practice Areas
Copyright Law
Corporate Law
Information Technology Law
International Mergers and Acquisitions
Media Law
Mergers and Acquisitions Law
Privacy and Data Security Law
Technology Law
Trademark Law
Office Locations
United States
United States
California
California
Manhattan Beach, CA
Media Center, Fourth Floor
1600 Rosecrans Avenue
Manhattan Beach, CA 90266
United States