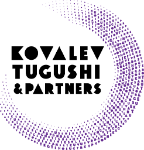 Firm Details
About "Kovalev, Tugushi & partners" law office
Moscow law office "Kovalev, Tugushi & partners" (previously "PRINCIPIUM") (KT&P) was founded in 2004. Professionals of KT&P have an extensive experience in representing interests of different Russian and foreign companies in Russia, CIS and Europe.
In 2017, Sergey Kovalev and Dmitry Tugushi, distinguished professionals in the area of dispute resolution, have taken the lead at KT&P renewing and strengthening their team of practitioners from the leading law offices in Russia and CIS which is one of the Russian law firms.
Before joining KT&P, Sergey headed the Litigation and Arbitration Practice at the leading Russian law office Egorov, Puginsky, Afanasiev and partners.
The core profiles of KT&P are debt recovery and dispute resolution. Currently, KT&P dispute resolution team is one of the largest teams on the market. The lawyers have high-profile expertise several areas. The team successfully represented its clients before courts of common justice, commercial courts of Russia and CIS including the Constitutional Court, the Supreme Commercial Court and the High Court.
The team also has experience in representing clients' interests and in drafting legal positions for different arbitration institutions: International Commercial Arbitration Court at the Chamber of Commerce and Industry of the Russian Federation, the International Chamber of Commerce, the London Court of International Arbitration, the Kuala Lumpur Regional Center for Arbitration, the Stockholm Chamber of Commerce and ad – hoc arbitrations.
The practitioners of KT&P are constantly participating in litigations before foreign and international venues for dispute resolution including: Her Majesty's High Court of Justice in England, the Supreme Court of Ireland, the Eastern Caribbean Supreme Court, civil and criminal courts of Switzerland and state courts of Germany.
The attorneys of KT&P are highly recognized in professional rankings and legal guides especially in the areas of dispute resolution, debt recovery, bankruptcy and assets protection.
Demographics
Of Counsel
Women: 1
Men: 3
Associates
Women: 8
Men: 14
Other Lawyers
Women: 1
Men: 1
Management / Department Heads
Women: 1
Men: 2
Paralegals
Women: 3
Men: 1
Non-Legal Employees
Women: 1
Men: 2
Top Listed City Awards
Top Listed in Moscow in Insolvency and Reorganization Law with 11 lawyers
Contacts
Firm Practice Areas
Arbitration and Mediation
Aviation Law
Banking and Finance Law
Competition / Antitrust Law
Corporate Law
Insolvency and Reorganization Law
Insurance Law
Intellectual Property Law
Labor and Employment Law
Land Use and Zoning Law
Litigation
Real Estate Law
Sports Law
Tax Law
Transportation Law
Office Locations
Russia
Russia
Moscow, Russia
7th Rostovsky Lane, 15
Moscow 119121
Russia