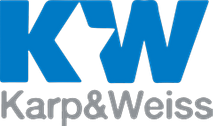 Firm Details
Karp, Heurlin & Weiss, P.C. (KH&W) is an AV-rated law firm, the highest rating any law firm can achieve.

Karp, Heurlin & Weiss (KH&W), and its predecessor has been serving the needs of our Arizona clients since 1985. Based in Tucson, a fast growing metropolis and business community, we combine the resources and advantages of larger firms with the personal attention that our clients deserve. We represent clients throughout Arizona and in all Arizona courts, state and federal. Through affiliation with other law firms, we also represent clients nationally and in courts throughout the United States.

Our lawyers are experienced in a wide variety of personal and business litigation matters. We have achieved national prominence in various areas of the law (on behalf of individuals, companies, and brokerage firms). Our Arizona practice also includes criminal defense and appeals, personal injury and medical malpractice, representation of professional clients before state licensing boards, commercial litigation, administrative agency litigation and arbitrations, domestic torts, consumer and securities class actions, appellate practice, environmental, employment litigation and consultation, and domestic relations.

We believe that lawyers owe an obligation to advancing the profession. Our lawyers have lectured to many law and business groups, authored books and articles on various areas of the law, and teach in area universities. We are also dedicated to serving the needs of our community and are active in civic and charitable causes.

Our commitment is to excellence and affordable representation for our clients, individuals and businesses alike.
Top Listed City Awards
Top Listed in Tucson in Family Law with 4 lawyers
About Our Clients
A.H. Equipment; Advanced Integrated Technology Solutions, LLC; Allergy-Asthma.Com, Ltd.; Arizona Mining Products Corporation, Inc., dba Minerec Mining Chemicals; Catalina Investments; Coldwell Banker Success Realty, Contravest Properties, Inc.; Paul Ash Management Company, LLC; Desert Rose Tax & Accounting; EYESplus, L.L.C.; FFP Securities; Gallagher and Associates; Genesis Real Estate and Development, Inc.; Golden Eagle Distributors, Inc.; Intraform, Inc.; Hand Surgery Ltd.; HER Place; James & Luther, Inc.; J.I.T. Staffing; L & L Manufactured Components; L.A. Spas; Legacy Partners Commercial, Inc.; Mar-Mac Design & Construction, Inc.; McElwain Company, Inc.; Nelson's Pipeline, Inc.; Olde Discount Corporation; UBS PaineWebber, Inc.; Power Property, Inc.; Prudential Securities, Inc.; Rincon Realty & Investment Co.; Saguaro Clinical Research, Inc.; Simonsen Generator Services, Inc.; Solomon Worldwide Consulting, LLC; Tanque Verde Enterprises, Inc.; Territorial Newspapers; VeriSign, Inc.; Vision Systems Limited; W.V.L.C.; Walker Outfitters Direct, Inc
Firm Practice Areas
Civil Rights Law
Criminal Defense: General Practice
Criminal Defense: White-Collar
Family Law
Family Law Arbitration
Family Law Mediation
Office Locations
United States
United States
Arizona
Arizona
Tucson, AZ
3060 North Swan Road
Tucson, AZ 85712-1225
United States