Firm Profile


Firm Details
Gowling WLG is an international law firm created by the combination of Gowlings, a leading Canadian law firm, and Wragge Lawrence Graham & Co (WLG), a leading U.K.-based international law firm. With more than 1,400 legal professionals in 18 cities across Canada, the U.K., Continental Europe, the Middle East and Asia, Gowling WLG provides clients with top-tier legal advice at home and abroad in a range of areas.
Gowling WLG is one of the world's most respected, experienced and trusted law firms when it comes to protecting and enforcing intellectual property rights. Through our Moscow office, our award-winning team of IP practitioners has worked seamlessly with a global clientele for over two decades to deliver strategic advice in all aspects of IP law throughout Russia and the CIS.
Our clients never have to choose between world-class IP support, local expertise, and outstanding service and value - because our dedicated team in Russia delivers on all counts.
As a specialty IP firm, we provide top-tier legal support in all areas of IP law - from patents, trademarks and brand enforcement to IP litigation, strategic portfolio management and market-entry counsel.
Our Moscow office boasts some of Russia's most highly regarded IP lawyers, litigators, and patent and trademark attorneys, so you can be confident you're getting the advice you need to fully maximise and protect your IP rights.
With over 20 years of on-the-ground experience in Russia, we leverage our thorough understanding of the country's IP legal and regulatory environment to help you identify and mitigate risks, reduce administrative obstacles, and achieve your broader business objectives.
Gowling WLG has extensive experience in managing global IP portfolios across a range of industries, and many of our professionals hold specialised expertise in science, engineering and technology.
We offer comprehensive IP advice across a full range of areas, including:
Trademark and brand enforcement
IP litigation and dispute resolution
IP portfolio and asset management
Copyrights, Design, Domain names
Advertising, marketing and regulatory affairs
Licensing and technology transfers
Strategic IP/market entry counselling
Because we've practised IP law in Russia for over twenty years, we hold an unparalleled understanding of the Russian market. Aside from providing world-class IP advice, we can also help co-ordinate any support you may require in other legal areas, including the facilitation of complex M&A transactions and corporate litigation matters.
Management
Law Firm of the Year Awards
Intellectual Property Law in Russia (2021)
"Law Firm of the Year"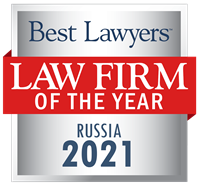 Russia's 2021 "Law Firm of the Year" in Intellectual Property Law
Firm Practice Areas
Entertainment Law
Intellectual Property Law
Media Law
Technology Law
Office Locations
Russia
Russia
Moscow, Russia
11 Gogolevsky Boulevard
Moscow 119019
Russia