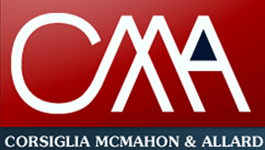 96 North Third Street, Suite 620
San Jose, CA 95112
United States
408-289-1417
Firm Details
California Personal Injury Attorneys, Helping Families and Making Our Community Safer
The personal injury attorneys at Corsiglia, McMahon & Allard get you fair compensation for your car accident injury, medical malpractice claim or workplace injury by making insurance companies pay. We have a national reputation and a proven record of holding wrongdoers accountable for their negligent actions which in turn makes our community safer.

Collecting Millions for Personal Injury and Medical Malpractice Victims
CMA has settled several hundred medical malpractice cases including one of the largest cases in this area against a major healthcare provider for $6.5 million.

We Try Cases When Insurance Carriers Refuse to Pay Fair Compensation.
To get the maximum amount of compensation for your case, you need a law firm that has an established track record of going to trial. Insurance companies consistently offer and pay much less to attorneys that avoid courtroom trials.

Success in the Courtroom Translates into Maximum Compensation
By developing a reputation for taking cases to trial, CMA led the list of The Recorder's Top 200 Settlements in California in 2010. Our reputation generated nine of the largest published and unpublished settlements last year and earned us one of the top spots among all law firms in California.

Recognized for Outstanding Legal Work
CMA takes on the difficult cases that many attorneys refuse to touch. Attorney Timothy McMahon was honored by his peers statewide for achieving one of the first settlements in California involving a "cyber-bully" case, holding both the teenagers and parents accountable for their actions.

More Than Just Attorneys, We Keep Our Community Safe
Through the actions we take on behalf of our injured clients, we force companies to change their negligent ways. This in turn helps make everyday life safer for all. As an example, CMA's lawsuit against a major amusement park ride manufacturer led to a nationwide recall of an amusement park ride that twice resulted in serious injuries to riders, a majority of them young children. CMA secured a $3.375 million settlement on behalf of a family whose children were injured at the 2008 Calaveras County Fair.

Contact a San Jose Personal Injury Lawyer
If you have suffered a serious injury or the loss of a family member, contact a San Jose personal injury lawyer at Corsiglia, McMahon & Allard. You get aggressive legal representation starting with a free case evaluation. And there is no fee unless we collect.

Firm Practice Areas
Medical Malpractice Law - Plaintiffs
Office Locations
United States
United States
California
California
San Jose, CA
96 North Third Street, Suite 620
San Jose, CA 95112
United States