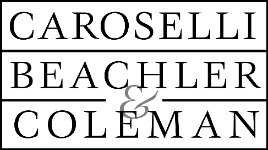 Caroselli Beachler & Coleman, L.L.C.
20 Stanwix Street, Suite 700
Pittsburgh, PA 15222-4802
United States
(412) 391.9860
Firm Details
The firm was established in 1972 as McArdle, Caroselli, Laffey & Beachler. Known today as Caroselli Beachler & Coleman, the firm has grown to include 11 attorneys and a full staff of paralegals, legal secretaries, and other support personnel.

For more than 40 years, Caroselli Beachler & Coleman LLC has represented injured people and their families in accident, injury, and death claims, as well as a broad range of social security and employment issues. We serve all communities in through out Pennsylvania and offer local appointments when needed.
Management
Demographics
Associates
Women: 1
Men: 2
Management / Department Heads
Women: 1
Paralegals
Women: 3
Men: 2
Non-Legal Employees
Women: 11
Men: 1
Top Listed City Awards
Top Listed in Pittsburgh in Workers' Compensation Law - Claimants with 4 lawyers
Contacts
Carolyn Hinson
Firm Administrator
412-391-9860
Firm Practice Areas
Bet-the-Company Litigation
Commercial Litigation
Insurance Law
Medical Malpractice Law - Plaintiffs
Personal Injury Litigation - Plaintiffs
Product Liability Litigation - Plaintiffs
Workers' Compensation Law - Claimants
Office Locations
United States
United States
Pennsylvania
Pennsylvania
Pittsburgh, PA
20 Stanwix Street, Suite 700
Pittsburgh, PA 15222-4802
United States