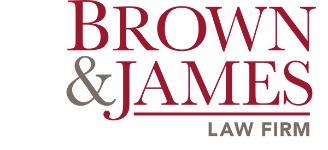 Headquarters
Bank of America Plaza, Suite 1100
800 Market Street
St. Louis, MO 63101-2501
United States
(314) 421.3400
Firm Details
Brown & James, P.C. is a Midwest regional law firm with more than 125 lawyers representing companies in litigation, appeals, and insurance coverage matters. With offices in St. Louis, Kansas City, Springfield, and Columbia, Mo., Belleville, Ill., Wichita, Kan., and Little Rock, Ark., Brown & James lawyers regularly represent clients in state and federal courts and before administrative agencies throughout the region.
Brown & James has been recognized as one of the top trial firms in the Midwest, receiving numerous awards honoring both the firm and individual lawyers, and was the lone recipient of Missouri Lawyers Weekly's "Winningest Defense Firm" honor, which was awarded from 2008 through 2015.

We limit our practice to civil trial and appellate matters. While many law firms include a "litigation section," each of our principals is an experienced trial lawyer, ready to litigate when it makes sense. Our firm is known for its readiness to "do battle" for clients. As a result, we often have a distinct advantage in settlement negotiations.

Our trial experience and determination are powerful benefits in every legal situation. When you want results, our lawyers offer the commitment and expertise you need. Whether you want to develop preventive legal practices for your organization, take your case to trial, negotiate a favorable settlement, or file an appeal, you can count on Brown & James.
Top Listed State Awards
Top Listed in Missouri in Insurance Law with 4 lawyers
Top Listed in Missouri in Insurance Law with 14 lawyers
Top Listed in Missouri in Litigation - Insurance with 7 lawyers
Top Listed in Missouri in Medical Malpractice Law - Defendants with 5 lawyers
Top Listed City Awards
Top Listed in St. Louis in Insurance Law with 14 lawyers
Top Listed in St. Louis in Litigation - Insurance with 6 lawyers
Top Listed in St. Louis in Medical Malpractice Law - Defendants with 5 lawyers
Top Listed in St. Louis in Personal Injury Litigation - Defendants with 9 lawyers
Awards
"Best Law Firms" list by U.S. News & World Report and Best Lawyers
Benchmark Litigation, Recommended Law Firm
BTI Consulting Group, Litigation Honor Roll, Product Liability Litigation (2018)
Winningest Defense Firm - Most Defense Verdicts/Judgments in State: Missouri Lawyers Awards (2009-2015)
Missouri Excellence Award in Legal Services: Small Business Institute for Excellence in Commerce (2013)
Go-To Law Firm for Litigation at the Top 500 Companies: American Lawyer Media (2007-2010, 2013)
City of St. Louis Business of the Year Award: Presented by St. Louis Development Corporation & St. Louis Mayor Francis Slay (2012)
About Our Clients
Corporate Clients
Allied Signal, Inc.
Autozone, Inc.
Bally Total Fitness
Big Lots Stores, Inc.
Bridgestone/Firestone Inc.
Burns & McDonnell Eng.
Central Refrig. Trucking
Charter Communications, Inc.
Coca-Cola Enterprises
Cooper Tire & Rubber Co.
Dave & Busters, Inc.
Frito-Lay
Garden Way Incorporated
Genie Industries
Global Van Lines
Harsco Corporation
Hexion Specialty Chemicals, Inc.
Ingersoll Rand Company
Interstate Distributor Co.
J.C. Penny Corp.
K-Mart Corporation
Koehring Cranes
Marathon Oil Company
Marten Transport, Ltd.
McDonalds Corporation
Metro
Michaels Stores, Inc.
O'Reilly Auto Parts
Old Dominion
Pacer International
Powerscreen USA
PPG Industries, Inc.
Quest Diagnostics, Inc.
Raytheon Company
Reichhold, Inc.
Republic Services
Saint Louis University
Schnuck Markets, Inc.
Sears Roebuck & Co.
Security Services, Inc.
Slay Industries, Inc.
The Stanley Works
Steak 'n Shake, Inc.
Swift Transportation Co.
Terex Corporation
The TJX Companies, Inc.
Tyson Foods, Inc.
University of Missouri
USF Holland, Inc.
Wal-Mart
Walgreen Company
Washington Group Int'l.
Washington Mutual Bank
Washington University
Wells Fargo Alarm Ent., Inc.
Werner Co.

Insurance Clients
Acuity Insurance Company
Allstate Insurance Co.
Amica Mutual Insurance
Association Aviation Underwriters
Auto Owners Insurance Company
Benchmark Insurance Co.
California Casualty
Chartis (AIG)
Chubb Insurance Group of Companies
Cincinnati Insurance Co.
Claims Management Services
Colony Insurance Company
CNA Insurance Co.
Design Professionals Ins.
EMC Insurance Company
Erie Insurance Group
Essex Insurance Company
General Star Mgmt. Co.
Grinnel Mutual Insurance Company
Hanover Insurance Co.
Hartford Insurance Group
Illinois Casualty
Infinity Insurance
Intermed Insurance Co.
Kemper Insurance Co.
Lexington Insurance Company
Markel Insurance Company
Market Insurance Company of Canada
Medical Assurance Corp.
Metropolitan Insurance Co.
MIRMA
National General Insurance
Nationwide Mutual Ins. Co.
Philadelphia Insurance
Pro Assurance
RLI Insurance
Rockville Risk Management Associates
RSUI
Scottsdale Insurance Company
Selective Insurance Company
State Auto
State Farm
Travelers Insurance Co.
United National Group
Zurich American Ins. Co.
Firm Practice Areas
Appellate Practice
Commercial Litigation
Construction Law
Insurance Law
Legal Malpractice Law - Defendants
Medical Malpractice Law - Defendants
Personal Injury Litigation - Defendants
Office Locations
United States
United States
Arkansas
Arkansas
Little Rock, AR
400 West Capitol, Suite 1704
Little Rock, AR 72201
United States
Illinois
Illinois
Belleville, IL
Richland Plaza One, Suite 200
525 West Main Street
Belleville, IL 62220-1547
United States
Kansas
Kansas
Wichita, KS
111 South Whittier
Wichita, KS 67207
United States
Missouri
Missouri
Columbia, MO
3610 Buttonwood Drive, Suite 200
Columbia, MO 65201
United States
Kansas City, MO
2345 Grand Boulevard, Suite 2100
Kansas City, MO 64108
United States
Springfield, MO
300 John Q. Hammons Parkway, Suite 603
Springfield, MO 65806
United States
St. Louis, MO
Bank of America Plaza, Suite 1100
800 Market Street
St. Louis, MO 63101-2501
United States