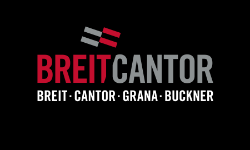 Breit Cantor Grana Buckner

Headquarters
7130 Glen Forest Drive, Suite 400
Richmond, VA 23226
United States
(804) 644.1400
Firm Details
The Virginia law firm of Breit Cantor Grana Buckner is devoted to individuals and families devastated by personal injury, wrongful death, and other cases of serious personal, commercial, and economic loss. Our attorneys only handle the most serious plaintiff cases and have achieved over 150 verdicts and settlements of $1,000,000 or more.
Our lawyers have many years of experience, including the firm's senior partners, Irvin Cantor and Jeffrey Breit, each have more than 40 years of experience. The firm's partners have held leadership roles in several stare and national associations. Many of the firm's achievements and results have been reported in the state and national press.
The vast majority of our cases are referrals from other trial lawyers or joint ventures with other trial lawyers, in which we have been brought in to assist with the litigation/trial of the case.
Dedicated to Cases of Personal Injury
We understand that when clients and their families arrive at our office, they are facing a sudden and life-altering situation through no fault of their own. Our clients come from all walks of life, yet none are prepared for the traumatic changes that occur with catastrophic injury and wrongful death. Their families are under tremendous stress dealing with this new reality and are overwhelmed by the physical and emotional challenges of caring for their injured loved one.
While we can't fix injured bodies or prevent fatal mistakes, we are tireless in our commitment to helping clients find comfort, regain their dignity and empower them to new independence.
Dedicated to Cases of Economic Loss
We understand that suffering substantial damages as a result of a business or will dispute or legal malpractice can create tremendous stress on an individual's family, finances and livelihood.
Dedicated to the Highest Standard of Excellence
Because our attorneys agree to handle only the most serious plaintiffs cases, our clients receive exhaustive and aggressive representation in negotiations and in trial, and most importantly, are treated with the compassion and respect they deserve.
Our attorneys know the legal system and their particular areas of practice and have been recognized for their professional leadership, litigation experience and reputation for legal acumen.
All of the firm's partners are listed in
Best Lawyers in America
, in multiple categories with the firm's three senior partners being voted "Richmond Lawyer of the Year" in their respective practice areas. All partners are AV rated, Martindale-Hubbell's highest rating for legal ability and ethical standards and have also been voted by other lawyers as Super Lawyers: "Top 100" in Virginia and "Top 25" in Richmond, with Irv Cantor and Aubrey Ford being named to the "Top 10" in Virginia and Stephanie Grana being voted a "Top 50 Women Virginia Super Lawyer."
Our attorneys have served as President of the Virginia Trial Lawyers Association, the Brain Injury Association of Virginia, the Virginia Chapter of the American Board of Trial Advocates, the Lewis Powell Inn of Court, and the Metro Richmond Woman's Bar Association. They have served in leadership roles in numerous other legal, professional and charitable organizations.
Top Listed State Awards
Top Listed in Virginia in Product Liability Litigation - Plaintiffs with 4 lawyers
Firm Practice Areas
Brain Injury
Catastrophic Injury
Medical Malpractice Law - Plaintiffs
Personal Injury Litigation - Plaintiffs
Premises Liability
Product Liability Litigation - Plaintiffs
Tractor-Trailer Collision
Trucking Accidents
Wrongful Death
Office Locations
United States
United States
Virginia
Virginia
Richmond, VA
7130 Glen Forest Drive, Suite 400
Richmond, VA 23226
United States
Virginia Beach, VA
Towne Pavilion Center II, Suite 402
600 Twenty-Second Street
Virginia Beach, VA 23451
United States