Firm Profile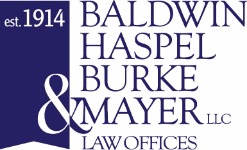 Baldwin Haspel Burke & Mayer LLC
Energy Centre, 36th Floor
1100 Poydras Street
New Orleans, LA 70163
United States
(504) 569.2900
Firm Details
Baldwin Haspel Burke & Mayer is a full-service law firm that prides itself on personal service for each of its clients. Since 1914, the firm has successfully met its clients' changing needs as part of its commitment to providing quality legal services in a timely, cost-efficient manner. Baldwin Haspel Burke & Mayer finds creative solutions for the legal problems that affect our clients, whether our attorneys are developing preventive strategies or responding to critical demands.
Baldwin Haspel Burke & Mayer was formed by the merger of Baldwin Haspel (formed in 1914) and Burke & Mayer (formed in 1971). Baldwin Haspel specialized in legal transactions and established itself as a leader in business, personal finance and tax law. Burke & Mayer started as a maritime firm and evolved into an organization providing diverse services to maritime and energy related industries, with an emphasis on litigation. Baldwin Haspel Burke & Mayer was officially formed in July 2007, when the two firms recognized an opportunity to better serve their existing clients by combining their respective strengths.
Today the firm is active in the areas of alternative dispute resolution, bankruptcy, business & commercial litigation, commercial & equipment finance, commercial real estate, construction, elder law, employment, environmental, estate planning & successions, general business, general casualty, insurance defense & coverage, intellectual property, maritime, mergers & acquisitions, professional liability, startups and taxation.
To further enhance the level of service it provides, the firm is a member of MeritasTM, one of the world's largest alliances of pre-qualified independent law firms.
OUR MISSION
Baldwin Haspel Burke & Mayer's mission is to be a client-focused organization, recognized for providing the highest level of legal services, resulting in long-term relationships.
The cornerstones of our firm's existence are:
Quality Service: We endeavor to maintain our long-standing reputation of tradition and success by addressing our clients' needs with responsiveness, efficiency and innovation.
Client Satisfaction: Coupling our firm's dedication to quality service with our commitment to client satisfaction results in trust and loyalty. That is why our clients become like family and stay with us for generations.
Community Involvement: We take our moral obligation to serve the communities we have called home for more than 100 years very seriously and encourage our people to actively participate in the betterment of our region.
Firm Culture: We constantly strive to cultivate an environment where all enjoy working and feel appreciated, respected and understood.

DIVERSITY & INCLUSION
At Baldwin Haspel Burke & Mayer, our greatest asset is the brilliant group of individuals we get to call our employees, over 50% of whom have been employed with the firm for over 15-years. We are proud of that, as we feel it is a reflection of the welcoming and inclusive work environment we have built and continue to promote day-in and day-out.
One of the cornerstones of our firm's existence, as outlined in our mission statement, is "firm culture." Right up there with providing the highest quality legal services to our clients is our firm's commitment to our employees, "to cultivate an environment where all enjoy working and feel appreciated, respected and understood." This is our promise to our employees, both current and prospective, regardless of their age, gender, race, ethnicity, culture, religion or spiritual practices, disabilities, sexual orientation, gender identity, family status or veteran status.
We understand the value that comes along with having diversity of backgrounds, diversity of perspectives, and diversity of work and life experiences in the workplace. That's why we are dedicated to making diversity a continued focus for our firm's growth and advancement as we forge ahead to 200 years of service.
Management
Top Listed City Awards
Top Listed in New Orleans in Trusts and Estates with 4 lawyers
Awards
2011 - 2012 U.S. News - Best Lawyers® "Best Law Firms"
2013-2014 U.S. News - Best Lawyers® "Best Law Firms"
2014-2015 U.S. News - Best Lawyers® "Best Law Firms"
2015-2016 U.S. News - Best Lawyers® "Best Law Firms"
2016-2017 U.S. News - Best Lawyers® "Best Law Firms"
2017-2018 U.S. News - Best Lawyers® "Best Law Firms"
2012 - 2013 U.S. News - Best Lawyers® "Best Law Firms"
Contacts
Bill Provensal
Chief Operating Officer
504.585.7778
Firm Practice Areas
Admiralty and Maritime Law
Business Organizations (including LLCs and Partnerships)
Closely Held Companies and Family Businesses Law
Commercial Litigation
Construction Law
Corporate Law
Elder Law
Employee Benefits (ERISA) Law
Employment Law - Management
Environmental Law
Litigation - Insurance
Litigation - Trusts and Estates
Mergers and Acquisitions Law
Oil and Gas Law
Personal Injury Litigation - Defendants
Real Estate Law
Tax Law
Trusts and Estates
Office Locations
United States
United States
Louisiana
Louisiana
New Orleans, LA
Energy Centre, 36th Floor
1100 Poydras Street
New Orleans, LA 70163
United States